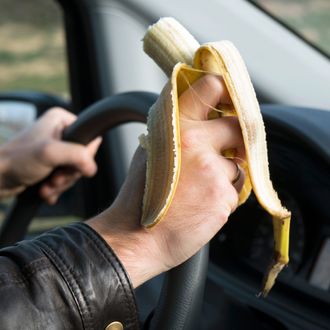 Time for some traffic problems.
Photo: Jan Mammey / STOCK4B/AFP/Getty Images
New Jersey lawmakers are finally tackling one of society's biggest scourges: driving while multitasking. A new law proposed by two state assemblymen would make Jersey one of only three states where it's illegal for motorists to eat, drink, or do a wide range of other "distracting" activities, somehow turning it into an even less fun place to drive. The penalty for trying to sneak a sip of Dunkin' Donuts (water, too) or bite of Taylor ham while behind the wheel would be the harshest anywhere in America: Drivers would be fined $200 to $400 the first time, then $400 to $600 for their second offense. Subsequent violations would result in a ticket for $600 to $800, plus a 90-day license suspension.
Backers argue distracted driving played a roll in 800,000 accidents in the Garden State between 2010 and 2014, and this bill under consideration is the only answer. As currently written, it would prohibit "any activity unrelated to the actual operation of a motor vehicle in a manner that interferes with the safe operation of the vehicle on a public road or highway," though hopefully some mind was paid to the idea of filling Jersey's crowded roadways with bunches of parched, hangry drivers.

Now that it's the middle of the hot summer, it's worth pointing out that New Jerseyans would also be deprived of this extremely important local law-enforcement duty: