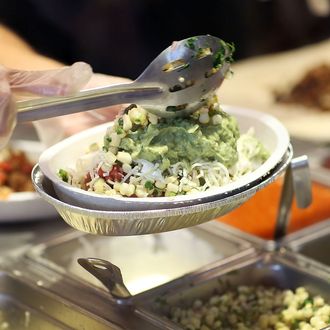 Hopefully those hands are attached to somebody on the clock.
Photo: Joe Raedle/Getty Images
What started as "workplace morale" problems for Chipotle has snowballed into a huge class-action lawsuit over unpaid wages. A daunting number of employees — 9,961, or roughly 1 in 5 — have joined the complaint, which claims the chain "routinely requires hourly-paid restaurant employees to punch out, and then continue working until they are given permission to leave." Managers allege they also had to work without pay, and were required to shortchange staff in order to "meet budget goals," as CNNMoney explains it.

Wage-related lawsuits aren't uncommon at big chains, sadly, but this one is really giant — the largest ever against the company. Kent Williams, the attorney working the case, says there are plaintiffs in almost every state that has a Chipotle location. "Chipotle has argued this is a few rogue managers who aren't following policy," he notes. "Our view, especially given the number of people opting in, is that it's a systematic problem at Chipotle."
"Dozens" of workers tell CNNMoney they've seen the wage theft occur at their stores, and many add they often put in five hours or more of free labor every week. The lion's share of complaints appear to relate to closing down stores:
Workers are supposed to end their shifts between 11pm and midnight at many restaurants, but workers tell CNNMoney that they almost never leave on time.

Chipotle's system automatically clocks workers out by 12:30am in most places, but workers say they are often asked to stay longer to finish cleaning and preparing for the next day. Managers are supposed to adjust the hours, but workers allege that doesn't always happen.
Chipotle denies any wrongdoing and argues it has paid all wages it owes employees. It's promising to fight the case in court.