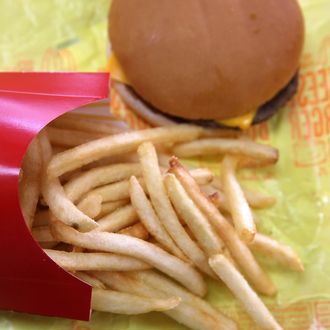 "Athletes are not expected to eat this."
Photo: Justin Sullivan/Getty Images
When they're not actually competing, Olympians likely have one of two things on their minds in Rio: when to have sex, and what to consume at the Olympic Village's food court. You'd think the second decision would be much tougher for 10,000 consummate pros who are, theoretically, on regimented diets requiring them to swear off things like fries and McNuggets — but that doesn't appear to be the case. Per the Washington Post:

The one constant in the Olympic Village, the collection of high-rise apartment towers where some 10,000 athletes, coaches and staff live during the Games, is that there will be a line out the door of the McDonald's. Morning and night, in blazing sun or stiff wind, come stray bullet or whiff of sewage, the Olympians will be waiting for their fries.

And this is despite a plethora of not-half-bad-sounding options. But according to the Post, reviews of this food are "well short of glowing." Instead, athletes queue up for the free Mickey D's, giving reporters quotes like "We're so pathetic" because the line snakes through the Olympic Village day and night, sometimes for lengths greater than a football field, and doesn't look affected whatsoever by inclement weather:

Sadly, McDonald's had to break some bad news to athletes this week: The location has decided to start capping the number of items any one person can order — at 20. Which is apparently a number low enough to speed up the line.