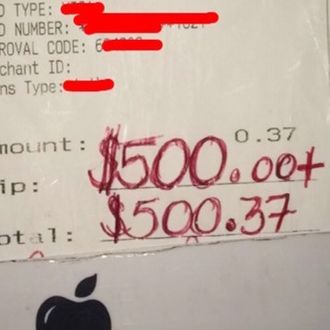 Kasey Simmons, a server at a Texas Applebee's, probably felt miffed when a family at one of his tables racked up literally the cheapest bill possible: flavored water that cost all of 37 cents. Luckily, things were about to look up — about 13,500 percent up — because, as it turned out, the drink was just a ruse for leaving a $500 tip, bringing their total to $500.37.
The family came to the restaurant specifically on the hunt for Simmons. The day before, he'd noticed a woman who looked distraught — "Mom," as this family calls her — while grocery-shopping at Kroger, so he approached her and offered to pay for her groceries. All he knew was that "something was making her sad," he says, adding that it was only $17, "but it's not about the money — it's about showing someone you care."
As he learned on the note the woman's daughter left on a napkin next to the bill, she was grieving the anniversary of her husband's death:
On behalf of the Sullivan family, I want to thank you for being the person you are. On one of the most depressing days of the year, (the death of my father, 3 year anniversary) you made my mother's day wonderful. She has been smiling since you did what you did. Her grocery was only $17.00, and you insisted on paying and told her she was a very beautiful woman.
Moral of the story: Being nice to others pays, sometimes literally.