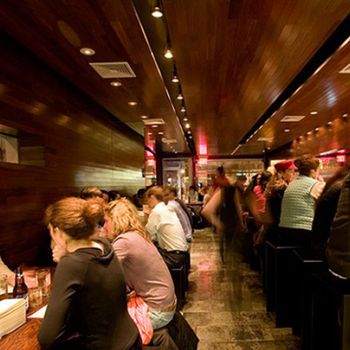 Happy birthday!
Photo: Courtesy of Momofuku Ssäm Bar
It sounds almost silly now, but David Chang's success was not always a given. Ten years ago, when he was a fresh-faced East Village chef best known for making ramen, the Momofuku man launched Ssäm Bar, his second restaurant, and the one that — over its decade of existence — has arguably been the company's most consistently impressive and interesting.
By now, you, your friends, and probably even your parents have hit Ssäm dozens of times. Yet like Noodle Bar before it, which was initially met with a lukewarm response, Ssäm Bar almost experienced a failure to launch. Chang's original idea for the restaurant, opened when culinary circles treated fusion like a dirty word, was a cafeteria-style "Asian burrito" bar by day. (Just check out this opening-day preview.) Chang was referencing Chipotle before that became something aspiring fast-casual gurus really strove for. Meanwhile, Ssäm Bar also became a popular late-night spot for industry folks.
Despite Chang's enthusiasm for the project, which he hoped would fund a kind of chef's collective of restaurants run by his cooks, the burrito-bar aspect bombed. Eventually, Chang embraced what was working, abandoned his fast-casual plans (until Fuku, anyway), launched a duck lunch, became an early adapter of large-format feasts (like his bo ssäm), and became the face of a meat-obsessed culinary generation.
In a 2007 review, New York critic Adam Platt wrote "Chang's inventive, deeply flavored cooking can reduce even the sturdiest, most jaded eater to weak-kneed paroxysms of glee." Today, Matthew Rudofker, who has been with Momofuku since 2010, helms the kitchen. The restaurant remains perpetually popular, cacophonous, and as exciting a place as ever to eat buffalo pork buns, ham with red-eye-gravy mayo, and the restaurant's signature Bolognese-like spicy pork sausage and rice cakes. It also gave rise to Milk Bar, Booker & Dax, and a zillion copycat restaurants around the world.