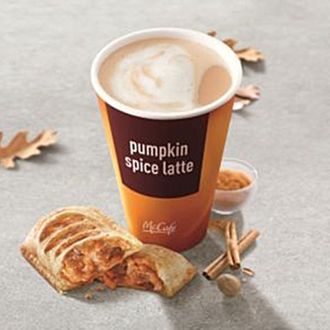 Perfect for your next beach day.
Photo: McDonald's
It's supposed to be a blistering 94 degrees in New York this weekend, but Mickey D's doesn't care: This year, it fully intends to violate the unwritten rule for pumpkin-flavored rollouts — wait until September at least, you animals — by releasing McCafé Pumpkin Spice Lattes on August 31. It's shamelessly going for Starbucks's jugular; not only will the chain's rival drink launch at all 14,000 locations this time (about twice the number that had it in 2015), but McDonald's no doubt anticipates the extra-early-release cheater move will give it a much-needed leg up.
Either way, the Rubicon is crossed. In fact, Peet's figured "Why not?," too, so on August 31 it will unleash no fewer than four distinctly fall beverages on customers: the Pumpkin Latte, a Pumpkin Javiva, a Pumpkin Chia, and a Dark Chocolate Pumpkin Mocha. Meanwhile, Starbucks keeps dilly-dallying: The Newsroom today put out a release titled "Summer Beverages at Starbucks." It traditionally releases the PSL by Labor Day to appease the barbaric hordes, but all it's said on the topic so far, via a separate press release today, is that it's got a new Pumpkin Spice bottled Frappuccino coming out in grocery stores. The PSL launch date is still TBA, so guess it's your move, Starbucks.