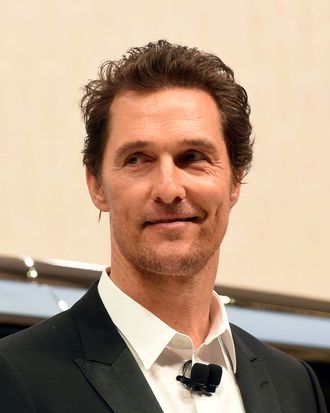 Matthew McConaughey: Oscar winner and traveling bourbon salesman.
Photo: Jewel Samad/AFP/Getty Images
Now fully satisfied with having turned around his career from romantic-comedy star to Oscar winner, Matthew McConaughey has set his sights on his most ambitious role yet: bourbon salesperson. Already a master of the weird car commercial, the actor has signed a contract with Gruppo Campari to serve as the creative director of Wild Turkey.
In his new role, McConaughey will write, direct, and star in commercials for the 161-year-old bourbon brand, appear in an online documentary, and help determine how bottles are photographed for ads. Clearly floored by McConaughey's Texas bona fides, Campari — which owns the bourbon brand — says that not only is a McConaughey-branded whiskey a possibility but that it'll consult him when developing new Wild Turkey products. No word yet on whether McConaughey will bring his friend (and noted culinary icon) Guy Fieri into the fold at any point, though.
For his part, McConaughey says he is super in touch with what "millennials" want and has even, in a major scientific breakthrough, discovered that they have a unique sixth sense that allows them to "smell solicitation." He's planning a "full-on reintroduction" for the brand and promises there will be no mustachioed mixologists involved. Together, Campari executives and McConaughey hope to reinvigorate the brand, which the actor and company see as a "little dusty." In other words, all parties involved probably hope to belatedly cash in on the cache enjoyed by prestige bourbons like Pappy Van Winkle.