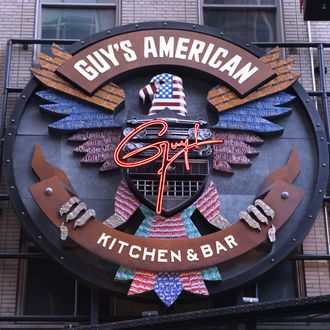 Match made in … somewhere.
Photo: © Walter McBride/Corbis via Getty Images
It's common knowledge by now that "pharma bro" Martin Shkreli tends to act first, then consider the consequences whenever he gets around to it. Now the "most-hated man in America" has gone and livestreamed his Friday happy hour at Guy's American Kitchen, widely believed to be the least-liked restaurant in all of New York City. The former pharmaceutical CEO apparently didn't mind these optics, though, so he pontificated for cameras while swigging an IPA and staring at an untouched order of Dragon Chili Cheese Fries.
Blame the whole perfect ordeal on a scam email chain sent Friday by someone purporting to be him. Shkreli was added, began insulting the roughly 400 reporters CC'd on it, and then showed up when somebody in the group joke-suggested the only way to salvage the mess was by "daydrinking at Guy Fieri's trash midtown restaurant." Odds seemed low for a Shkreli appearance, but reporters arrived to find him installed at Flavor Town's bar waiting for the "liberal media trash bag journalist happy hour" to begin:
Where he Periscoped all two hours of it: