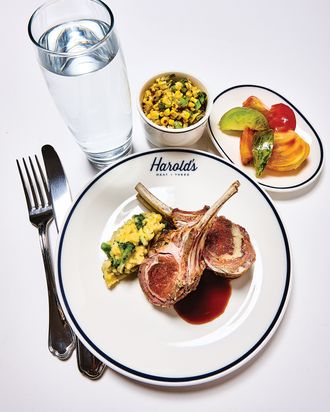 Lamb chops and rice casserole, corn, and tomatoes.
Photo: Bobby Doherty/New York Magazine
Harold's Meat + Three
Harold Moore gives a southern style of eating a Manhattan spin.
The former Commerce chef describes why his restaurant at the new Arlo Hotel in Hudson Square might be just what picky New Yorkers (and jet-lagged travelers) have been waiting for.
This isn't exactly Nashville-style meat and three. Moore was unimpressed by what he found down South. "The food is good but not for New York," he says. "People here don't want steam tables, and they don't eat heavy on the regular." So he's cooking mains to order on a wood-fired grill and offering lighter options and three price tiers: $19 for things like crab au gratin and green-chile tripe; $29 for beer-can chicken or broiled flounder; $39 for a whole roasted lobster or strip steak.
Just like at Thanksgiving, it's all about the sides. Moore has never met a starch he didn't like. He'll serve rice six ways, seven potato preps, and vegetables ranging from broccoli with burnt garlic to green-bean casserole.
You can supplement your dinner plate with an unlimited salad bar. "I love the idea of choice," says Moore, "from an old-school Italian antipasto bar to the buffet at Le Périgord." His will morph as the day progresses, from cereals and fruits in the morning to manned stations for carving meat and whole sides of salmon. Staff will be on hand to constantly replenish and "keep the avocados green."
When you're traveling, breakfast is a relative concept. "You don't know when people are arriving, or what they're in the mood for depending where they're coming from," says Moore. So meat-and-three-style brunch will be available daily from 7 a.m. to 4 p.m., with "meat" loosely interpreted as protein waffles, a Kentucky Hot Brown sandwich, and the shakshuka Moore made famous at Commerce.
2 Renwick St., at Canal St.; 212-374-2632; Sept.
The Beekman
Two major restaurateurs bring breakfast, lunch, and dinner to an 1882 Financial District landmark with a stunning nine-story atrium.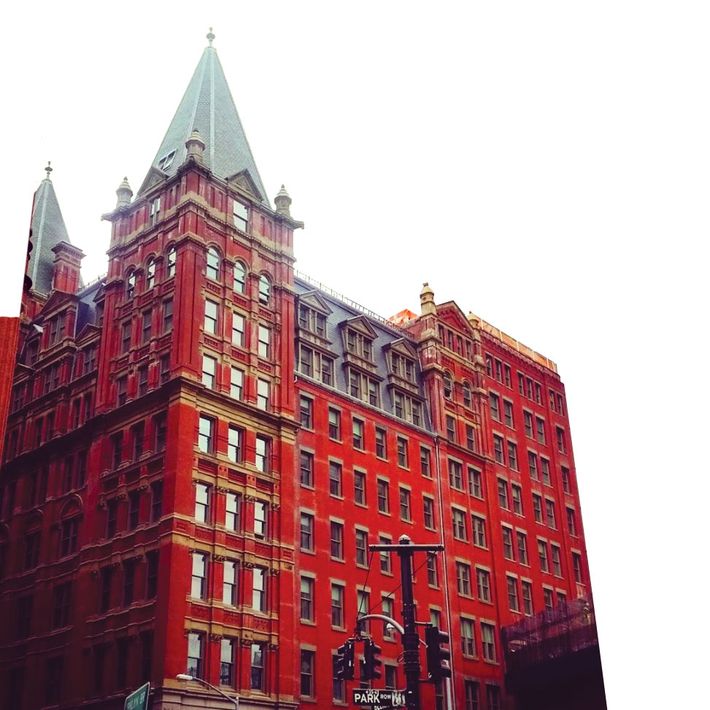 Tom Colicchio's Fowler & Wells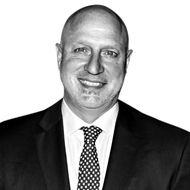 The Attraction: "I walked into the space and was just floored by the architecture; I said, 'If I don't get this deal and one of my competitors does, I'm going to be really pissed.' "
The Name: "The building used to house the American Society of Phrenology, the study of, like, lumps on your head, and the guys who ran it were Fowler and Wells."
The Concept: "More French-influenced, less globally influenced. Really good sauce work, good roasted and braised meats and fish. I think everyone is fatigued from too much soy and sugar and spice."
The Menu: Besides the main menu's modern American dishes, specials include riffs on turn-of-the-last-century classics — sole Véronique, lobster Thermidor, beef Wellington, oysters Rockefeller.
Keith McNally's Augustine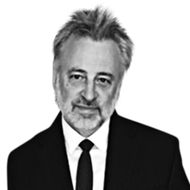 The Attraction: "The building's extraordinary interior attracted me to the project. Plus being heavily in debt and having to work."
The Name: "The name refers to Saint Augustine, a brilliant 4th-century theologian who had a wildly hedonistic lifestyle."
The Concept: "Closer to a French restaurant than a brasserie. And probably more glamorous than my other places."
The Menu: Grilled New York State veal chop with tête de veau and a blanquette of baby vegetables and sweetbreads; Augustine salad (haricots verts, foie gras, artichoke barigoule, and fresh greens).
5 Beekman St., at Nassau St.; Sept.
Cut
Wolfgang Puck's steak-centric New York debut (Four Seasons Hotel New York Downtown, 99 Church St.; Sept.).
Majorelle
Christian Delouvrier cooks, Charles Masson gardens (Lowell Hotel, 28 E. 63rd St.; Sept.).
Leuca
Coastal Southern Italian from Andrew Carmellini (the William Vale, 111 N. 12th St., Williamsburg; Oct.).
Harvey
Adam Leonti is big on grains and vegetables (The Williamsburg Hotel, 96 Wythe Ave.; Oct.).
Massoni
"Inauthentic Italian" from Dale Talde (Arlo Nomad, 11 E. 31st St.; Oct.).
Ortzi
Jose Garces goes Basque (Luma Hotel Times Square, 120 W. 41st St., Nov.).
Black Walnut
"Gjelina meets the South" via Nightingale Nine's Rob Newton (Hilton Brooklyn, 140 Schermerhorn St., Boerum Hill; Dec.).
Blue Ribbon Federal Grill
The Bromberg brothers, eclectic as ever (AKA Wall Street, 84 Williams St.; Dec.).
Unnamed Seamus Mullen Restaurant
Tertulia's tapas maven heads to Brooklyn (1 Hotel Brooklyn Bridge, 60 Furman St., Brooklyn Heights; Dec.).
*This article appears in the August 22, 2016 issue of New York Magazine.