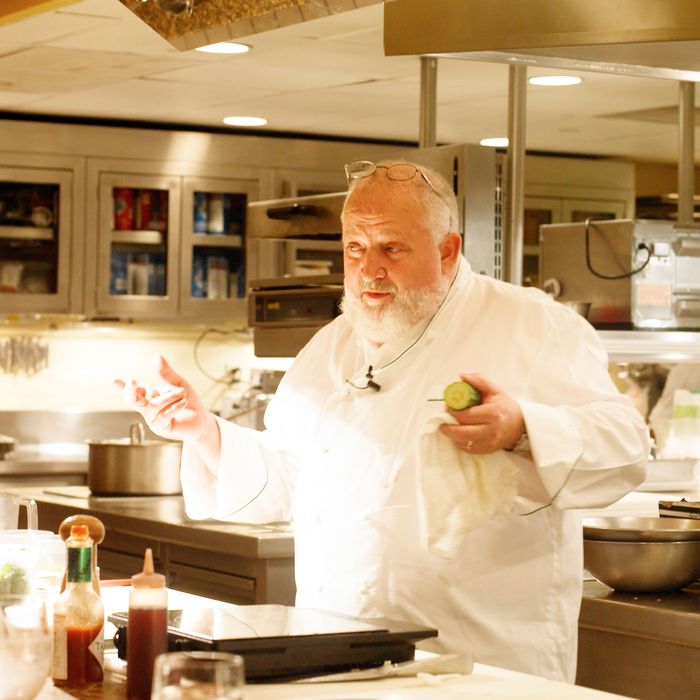 Richard, in the kitchen of his restaurant Citronelle, in 2006.
Photo: Allison Dinner for The Washington Post via Getty Images
In 1995, molten chocolate cake was the dessert. Copycat chefs around the world hoped to lay claim to the great creation. Yet Michel Richard, the famed French chef who made his name as a pastry expert, was already a few steps ahead. During an appearance on Julia Child's show, Richard demonstrated his recipe for "hot chocolate truffles," which happened to be both molten and frozen. He also baked a génoise inside an ordinary steel bowl. A seasoned pastry chef might balk at the technique, but in the segment, Richard forges on. As he spreads icing on a flimsy sheet of plastic wrap to coat the cake's surface, you think, There's no way that's going to work. But Richard, who in fact invented the recipe on the spot, finally unveils a gorgeous, shimmering dome. He starts dusting cocoa, and it's obvious that he knew from the start how beautifully it would turn out. "I'm a good chef," he says. "My mother's proud of me." Insofar as a public-television cooking segment can be riveting, this is it. And it shows Richard — one of the country's most cheerful, inventive chefs — at his peak.
There are many reasons why the chef and restaurateur, who died on Saturday at the age of 68 from complications of a stroke, could cook anything he wanted. But his famed exuberance was at odds with the vast, early sadness of his childhood in Brittany, which included an abusive father who disappeared when Richard — the second oldest of five children — was just 6. Richard's mother was forced into grueling shifts at a nearby factory manufacturing faux silk, and Richard seemed destined to work at a local bronze foundry, which left him covered in ash at the age of 14. But Richard also began cooking for his siblings when he was just 9, something that ended up completely changing his life.
"I think that's why he was so happy in the kitchen," says Ruth Reichl, the author and former Gourmet editor who once put Richard on the magazine's cover. "It was the one place where he didn't doubt himself, as a chef. He was completely confident when he was behind the stove."
Richard's path to restaurants was uneven. When he was an apprentice pâtissier, he joined the army at 18, and was deployed to the Rive Gauche in 1968 to curb student protests. That, in turn, led Richard to a brief, untenable artist's life in Montmartre. (If a painting sold, Richard blew the profits on alcohol.)
Eventually, the young chef landed in front of pastry legend Gaston Lenôtre, who handpicked him to help open a restaurant in New York City in 1974. Lenôtre's deluxe midtown flagship — his first shop in America — was to be huge: It would turn out 24,000 croissants an hour, while a crack team of cooks would master obscure terrines and dough-encased sausages. Alas. It didn't work. The shop closed on Bastille Day 1975.
Rather than return home, Richard stayed. Inspired by trips to Kentucky Fried Chicken, the chef embraced America's burgeoning culinary prospects — much the same way Jacques Pépin found acclaim working at Howard Johnson's. Richard opened a pastry shop in Santa Fe's La Fonda Hotel. There, he attracted the attention of restaurant publicist Joan Luther, who had so much inestimable power that she decided where the Vanderbilts and Reagans ate in Hollywood. Luther convinced Richard to relocate. He arrived in Los Angeles in 1976 with a young cook named David Bouley, whom he had given his first job in New Mexico.
Profits gave Richard enough money to return to Europe and dine at the places he had never been able to afford. The chef soaked in the zenith of nouvelle cuisine, and, back in L.A., he hosted elaborate after-hours dinners of full-fledged savory food at his pastry shop.
"He was one of the last people I knew who could really pull sugar; he was really classically trained," says Reichl. "When he opened Citrus [in Los Angeles, in 1987] people would say, 'He's a pastry chef, what does he know about cooking?' But then you went there, and he did the most inventive food, with extraordinary technical ability. I went back and looked at my first review and I remembered that wonder. Like, 'Oh my God, how did he even think of this?'"
Not all visitors to the Melrose Avenue establishment agreed, revealing Richard's mercurial side. Russ Parsons wrote a lackluster review, and the chef all but charged him with a knife. "Are you trying to kill me? I'll kill you!" yelled Richard. Eventually, perhaps unsurprisingly, the pair bonded over food and became close friends.
Richard expanded to the Bay Area and Philadelphia. There was an outpost of Citrus in Tokyo, and in 1993 Richard debuted Citronelle in Georgetown. Central Michel Richard, a later expansion that remains open, appealed to dignitaries and lobbyists alike on Pennsylvania Avenue, and spawned a Las Vegas outpost. He eventually threw a giant 80th-birthday party for Julia Child. A battalion of cooks stuffed 500 portions of foie gras inside prunes that had soaked in Armagnac for two weeks, and chefs took the Concorde from Paris for the blowout; one attendee told the Times that Paul Bocuse had been seen "poaching himself" in a hotel swimming pool in the aftermath.
Richard was a chef's chef. Thomas Keller was a fan. Anthony Bourdain said he was "far and away" one of the greatest. To peers, however, Richard's abiding tolerance for astronomical food costs — such as pay $60 a pound for haricot verts — also seemed at odds with his desire to expand, when most chefs want to mitigate financial risk. But the exquisite products fed his kitchens' intense creativity: Slow-roasted cherry tomatoes were minced until they looked uncannily like beef tartare. What appeared to be a hard-boiled egg was really fresh mozzarella stretched around a sphere of yellow tomatoes. Soft-scrambled eggs nestled in a shell with a caviar topper were actually scallops in disguise.
The chef's restless imagination produced a riff on foie gras pâté made with chicken livers and other bargain-basement ingredients that was richer and more profoundly flavored than the real thing. Richard pounded cuttlefish into schnitzel, and flat-packed classic crème brûlée inside Napoleons. When he wrapped shrimp and swordfish in the shredded phyllo dough known as kataifi and fried the parcels into a straw-colored "porcupines," knockoffs more or less instantly began appearing on menus around the world. "He would just invent dishes at the spur of the moment," Reichl says. "He was never really happy unless he was in the kitchen."
Richard did expand into New York, when Villard Michel Richard opened in late 2013. It seemed doomed to be a big-box misfire from the get-go, unable to shake off the residual gold-leaf outdated pomp of its predecessors. When it opened, little of the chef's trademark inventiveness was on display, while fine-dining signifiers — rare Wagyu, endangered tuna, seared foie gras — were out in full force. Reviews ranged from mediocre to bad, and it closed. Meanwhile, though, his Pomme Palais — a swanky, red-striped patisserie that Richard himself once described as "modern, fresh, and ripe like a strawberry" — remains open, and it's something of an homage to the original Lenôtre that brought Richard to New York in the first place. It doesn't turn out 24,000 croissants an hour, but it's a place that captures Richard's irrepressible charm and ongoing sense of wonder with food."I ask every ingredient," Richard writes in his 2006 cookbook Happy in the Kitchen, "What don't I know about you?"