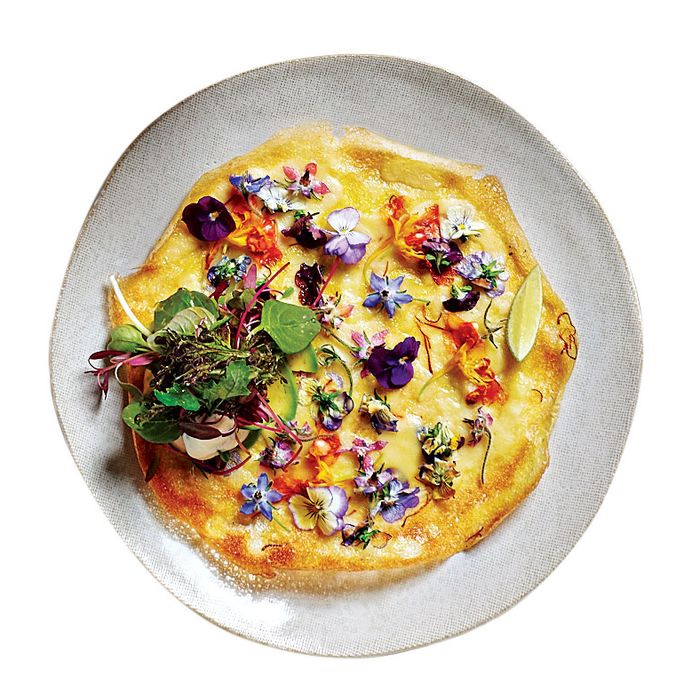 Saffron dosa with market flowers.
Photo: Courtesy of ABC Carpet & Home
Jean-Georges Vongerichten is about to open a vegetarian restaurant, but he'd prefer you didn't call it that. "For me, it sounds like a disease," says the chef. "I like to call it a vegetable restaurant." As such, abcV — the third, and smallest, of Vongerichten's collaborations with ABC Carpet & Home CEO Paulette Cole — will celebrate roots and shoots and leaves without trying to mimic meat.
While Vongerichten and his chef de cuisine, Neal Harden, were waiting for construction to finish (and an eight-story exhaust system for the wood-burning oven and grill to be installed), they had plenty of time for menu development: to season the wok; ferment dough for flatbreads; pressure-cook whole artichokes à la minute. "Wait until you try our kraut," says Vongerichten, who as a native Alsatian knows his pickled cabbage. Of course, he's had plenty of experience with plant matter. This is the man, after all, who gained prominence 30 years ago when he swapped butter and cream for vegetable reductions at the pioneering Lafayette, and who made waves more recently with his iconoclastic pea guacamole. He seems most excited about his new breakfast menu, which will launch — along with lunch and a to-go counter and juice bar — before dinner.
"I learned to eat breakfast in America," says Vongerichten, who takes a more global approach here with buckwheat crêpes, dosas, congee, and the South Asian lentil-and-rice dish called kitchari. "We took the recipe from Deepak Chopra's home and it's absolutely amazing," he says. "A special spice makes it delicious, and not too heavy for breakfast."
38 E. 19th St., nr. Park Ave. S.; no phone yet; Sept.
*This article appears in the August 22, 2016 issue of New York Magazine.