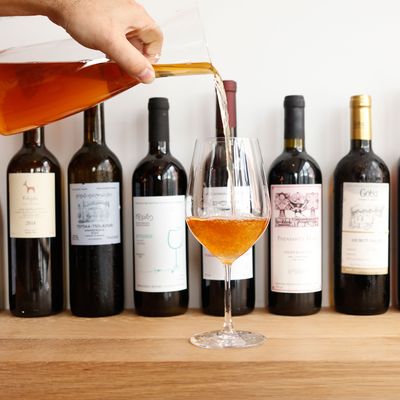 A selection of Georgian wines at Freek's Mill in Brooklyn.
Photo: Melissa Hom
The main thing you notice about Mariam Losebidze's 2014 Tavkveri is that it tastes like it's infused with smoked fat. This is wine, albeit obscure wine, and wine tends not to taste like bacon. But Losebidze is one of only a handful of female winemakers from the country of Georgia — the former Soviet republic sandwiched between Russia and Armenia's northern border — and her wines are unapologetically bold. They were also, until recently, largely only available in her home country. But now some of America's most progressive importers and sommeliers have turned their attention to Georgia, which produces wines that are unlike anything else.
Just as you might expect, plenty of Georgian wine is a far cry from grand cru Burgundies or the Pinot Noirs of California. For Western palates, much of it can seem, frankly, weird. In a lot of ways, the growing appreciation for Georgian wine is an extension of the continuing demand for so-called natural wines, the catchall term that refers to wines made with minimal processing, resulting in unpredictable, rustic wines where the makers — as opposed to the grape or region — are often the focus.
Even the most hard-core natural-wine geek will still find a lot to unpack when digging into Georgia's wine culture, which is 8,000 years old. There are, after all, some 525 indigenous grape varietals, about 50 of which are commonly used in commercial production. That means drinkers will have to familiarize themselves with grapes like Rkatsiteli and Kisi. Georgia is also best known for wines that are aged in quervi, traditional clay vessels that are sealed with honey and buried in the ground and can result in fresh, young wines that nevertheless have a dense, chalky texture.
It's a lot to take in. Luckily, sommeliers around the country appear to be up to the task. Take, for example, Alex Alan, the beverage director of Brooklyn restaurant Freek's Mill, who has assembled a list featuring 17 different Georgian bottles (and one by-the-glass offering). Alan is, in a way, offering a crash course, and he invites drinkers to ask as many questions. Ask enough, and you might end up with a bottle of Rkatsiteli from a winery called Orgo. The wine itself is almost savory, like a dry apple cider with a bit of juice added. Weird, but also very food-friendly.
"Any time you're cooking over fire, these wines do really well. There's something about that texture that works," Alan explains. "They're very rustic and bold … These are great straight off the bat because the acid is a lot more mellow and not so aggressive."
Alan's list of Georgian wines is one of America's most ambitious, but there are plenty of other places to find it: The East Village restaurant Oda House sells wine from well-regarded Georgian producers exclusively. Paul Greco's Terroir in Tribeca offers a dry and fruity white made with the Kisi grape. Jorge Riera, the wine director at Wildair (the go-to spot for natural wine in New York), currently has a 2015 Rkatsiteli on his menu. Chambers Street Wine carries a relatively substantial roster, as many as 12 choices at a time. Other New York shops that carry Georgian wines include Astor Wines, Flatiron Wines, and UVA. On the West Coast, wine from the popular Georgian producer Pheasant's Tears has been served at Bar Tartine, sold at Bi-Rite Market, and shown up on the wine list at Gjelina and in Los Angeles. There, Bar Covell, arguably the city's buzziest wine bar, also serves Georgian wine when it's available.
At the moment, even wine experts will admit that it's a niche within a niche. And there are plenty of factors that mean interest in Georgian wine may never grow beyond that. For one, the country is small and poor, and many farmers simply can't, or won't, grow enough grapes to keep up with demand outside of the local market. The country's wine industry is also relatively young (even if the wine itself is ancient).
And as Lisa Granik, a Master of Wine who has worked with the National Wine Agency of Georgia, explains, the country's wines could be further held back if the country is only known for its premodern wines: "Not all consumers want these so-called 'natural wines,' and it would be a pity if the pure, clean examples of Georgian varieties were not presented as well." That means generating interest among wine buffs and high-spending wine collectors who need to see value beyond the novelty of drinking something new.
For the moment, though, curious drinkers can take advantage and try these wines. In addition to being genuinely unique and interesting, Georgian wine also tends to be pretty affordable. All of the bottles below are less than $30.
9 Georgian Wines to Drink
1. 2013 Jakeli Saperavi (non-qvevri)
Granik says, "A stunning bottle of wine, organically produced. A pure, complex, and harmonious expression of the Saperavi variety; persistent with a long finish."

2. 2013 Vinoterra Mtsvane Amber
Granik says, "A well-polished wine, with notes of white pepper and lime zest; sinewy tannins lead to a long finish.

3. 2011 Lagvinari Otskhanuri Sapere
Granik says, "An intense wine with dark berry flavors lifted by high-toned floral notes typical for the variety; very pure."

4. 2014 Château Mukhrani Rkatsiteli (non-qvevri)
Granik says, "Pure, fresh, crisp, and subtly layered, with notes of raw almonds, citrus, pear, and mineral. For those curious about Georgian wine but shy about experimenting with amber wines."

5. 2014 Iago's Wine Chinuri White
Alan says, "Softly textured, crisp, and clean; it's golden in color with mild yellow fruit. There is a touch of chamomile tea in the finish. Simple and elegant."

6. 2014 Orgo Rkatsiteli Amber
Alan says, "This is a traditional skin-contact wine made from the most widely planted white variety. Heady aromas of apple skin, pear skin, and peach skin. On the palate it's firm and dry with mild tannins. But, most importantly, it remains very clean and pure. Flavors follow the aroma notes and round out the drier qualities on the palate. Robust but not aggressive. It is the ultimate table wine that goes with almost any food on the dinner table."

7. 2013 Iberieli Chkhaveri Rosé
Alan says, "A rosé with a color between orange and pink. More texture and savory character than traditional rosé, but otherwise it's familiar. Orange and cranberry and tart red berry fruits with a savory herb character. The finish is firm and dry, clean and fresh."

8. 2014 Archil Guniava Kvaliti Otskhanuri-Sapere-Tsolikouri
Alice Feiring, author of For the Love of Wine: My Odyssey Through the World's Most Ancient Wine Culture, says, "The weight and taste of a beaujolais in a cool year, with an iron bite."
9. 2011 Pheasant's Tears Kisi
Feiring says, "Full-throttle amber wine with a beautiful waxiness and scratch."