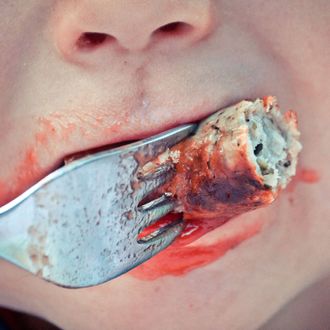 A more proper kid's diet.
Photo: Getty Images
Parents who feed kids a vegan diet would be criminals under a crazy new law proposed in Italy. The bill, introduced by Elvira Savino, a member of the center-right party Forza Italia, seeks to "stigmatize the reckless and dangerous eating behavior imposed by parents" who make children go vegan. No-meat diets are "inadequate," Savino argues, because they're "lacking essential elements for healthy growth." According to La Repubblica, under this law, raising anyone under the age of 17 on such a diet would be an offense punishable by up to six years in prison.
Savino says the belief that vegans are healthier "has been spreading in Italy" recently, a development she views with some alarm. "There is no objection if the person making this choice is an informed adult," she concedes, but a problem "arises" when the diet is forced on children: The bill claims that depriving minors of animal products can cause neurological disorders and anemia by leaving them iron-, zinc-, and vitamin-B12-deficient. Savino's solution is imprisoning these "radicalized" parents for one year — a sentence that can climb to four years if a kid actually gets sick, and six if he or she dies.
The bill is partly a reaction to several recent fiascos where the state had to remove malnourished kids from bad parents who were also vegan, but food-science experts have already responded with the suggestion that maybe lawmakers should tackle the nation's childhood-obesity epidemic before trying to lock up the tiny sliver of Italians supposedly forcing kids to eat too many vegetables.