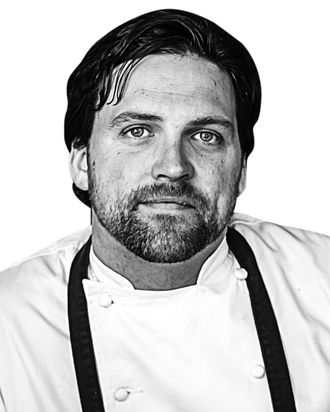 Introducing Jared Sippel.
Photo: www. KenGoodmanPhotography.com/www.KenGoodmanPhotography.com
After ascending the kitchen ranks at San Francisco's Quince and Boulder's Frasca Food and Wine, Jared Sippel moved to New York to open the Manhattan outpost of Chef's Table at Brooklyn Fare. When that project stalled, he stayed put. "I'd been here a year eating and sizing up the competition," he says. "I had something to prove to myself."
That something has materialized as Italienne, a Flatiron District restaurant with a casual taverna up front and a prix fixe dining room in back, serving food inspired by Southern France and Northern Italy (italienne is French for "Italian"). The spirit might be Old World, but the ingredients come from some of America's most prized purveyors: Pennsylvania's Four Story Hill Farm for poultry and lamb; Becker Lane Organics in Sippel's native Iowa for whole pigs; Maine fishmonger Ingrid Bengis for lobster. Flour for breads and pasta will be milled at Brooklyn Bread Lab, and breakfast will consist of Colorado's Boxcar coffee and pastry chef Rebecca Isbell's viennoiserie.
19 W. 24th St., nr. Broadway; 212-600-5139; Sept.
*This article appears in the August 22, 2016 issue of New York Magazine.