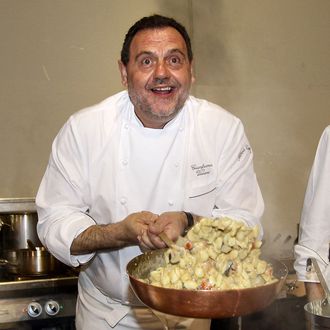 Vissani at work making something sufficiently un-vegan-y.
Photo: Vittorio Zunino Celotto/Getty Images
A big-name chef in Italy went on TV and said a couple of things he may come to regret about vegans. People who morally object to eating meat, Gianfranco Vissani explained during an appearance on talk show In Onda, are "a sect, they're like Jehovah's Witnesses." And what's the best way of handling sect members? Vissani continued: "What would I do with the vegans? I would kill them all."
Other chefs on the segment, which was supposed to be about molecular gastronomy (and can be viewed here, in Italian), questioned the chef's genocidal urges, saying things like "Don't be stupid" and counseling him not to utter "such rubbish" on national television. The hostility was apparently contagious though, as Vissani managed to draft well-known food writer Carlo Cambi to his side. Cambi didn't advocate murder, but he did suggest vegans were today's equivalent of Propaganda Due, a Masonic lodge founded in 1945 that Italians often refer to as a "shadow government."
Since the TV appearance, Vissani has taken a real beating on social media, with people tweeting he's "proof that meat is bad for you." But according to the Local, a disturbing number are also responding with sentiments like "bravissimo." The mess underscores why, honestly, it's not such a great time to be vegan in Italy. Just earlier this month, a lawmaker introduced a bill to imprison parents who feed kids no-meat diets, explaining that their country's better off with these monsters locked away.