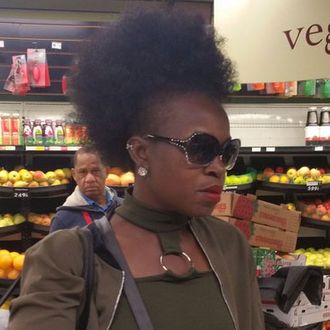 "Bonnie," videotaped by somebody inside the Chelsea store.
Photo: John Catsimatidis/Twitter
The $5,000 bounty Gristedes owner John Catsimatidis put on the "Bonnie-and-Clyde duo" who stole 80 pints of ice cream in Chelsea has proven more than adequate to attract a rat. The two thieves — identified by police as Mark Hicks and Ebony Gillian — were arrested at a bus stop on Sunday after some do-gooder placed a Crime Stoppers tip. They were charged with petty theft, and are being held on bail because both have outstanding warrants.
The Post says it was their roommate who squealed:

One of the suspects, Mark Hicks, "loved to brag about" his exploits — waving around a store worker's cellphone photo of him published in The Post while boasting, 'I'm famous!' " according to a man who identified himself as the pair's roommate.

"They used an 'I heart NY' bag that fits 50 pints exactly — two rows of five, stacked five high," the man said of the pair's alleged thievery, adding that he's the one who dropped the dime on the couple to cops. "[Hicks] said he would make $150 on that alone."
Hicks supposedly bragged that a good haul of ice cream could net them $700 at bodegas in lower Manhattan and along Utica Avenue and Eastern Parkway in Brooklyn. It's easy to see how these criminal masterminds got busted, though: They broke the first rule of dealing ("Never get high on your own supply") by snacking from pints on their roommate's couch, and their undoing seems to have been in trusting a guy they'd been living with for barely a week. They were paying him just $80 a day in rent, and would offer to "take orders" the next time they did a heist as a perk. Unless they had plans to stay roomies for the next year, he was definitely better off taking the reward, even with the free Ben & Jerry's.
The Post doesn't say if he's collected his $5,000 yet, but Catsimatidis — who's worth roughly $3.4 billion — seems to view it as money well spent. "The hell with 'em," he tells the paper.