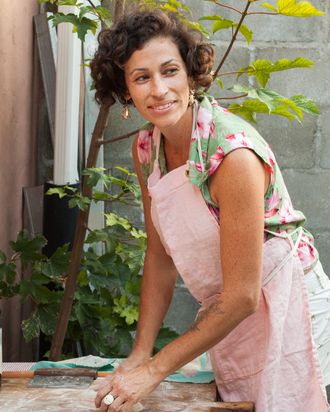 Baker Sarah Owens, author of
Sourdough: Recipes for Rustic Fermented Breads, Sweets, Savories, and More
, regularly does pop-ups in Rockaway.
Photo: Miachel Breton
The restaurant scene at Rockaway Beach is vibrant, diverse, and ever-changing — and this weekend's benefit dinner at Off Season, organized by the MP Shift to raise funds for Rockaway Rising, captured that energy. Local mainstays — like "pizza Nazi" Whitney Aycock — cooked alongside relative newcomers, like Robert Wagner and Matt Webster, who opened a breakfast joint named Brothers this summer, and Lima natives Leyla and Ximena Yrala. And in a real marriage of old-guard meets new, Aycock plated the dessert of his new business partner, pastry chef Tracy Obolsky.
If you haven't yet made it to Rockaway this summer, consider this a call to action. (And remember that many restaurants, like the Yrala sisters' Chicks to Go, stay open year-round.) Overall, the food is delicious without being fussy, and the select few chefs who chose to grow their businesses there are passionate about their community. Here's a glimpse of what you'll find: