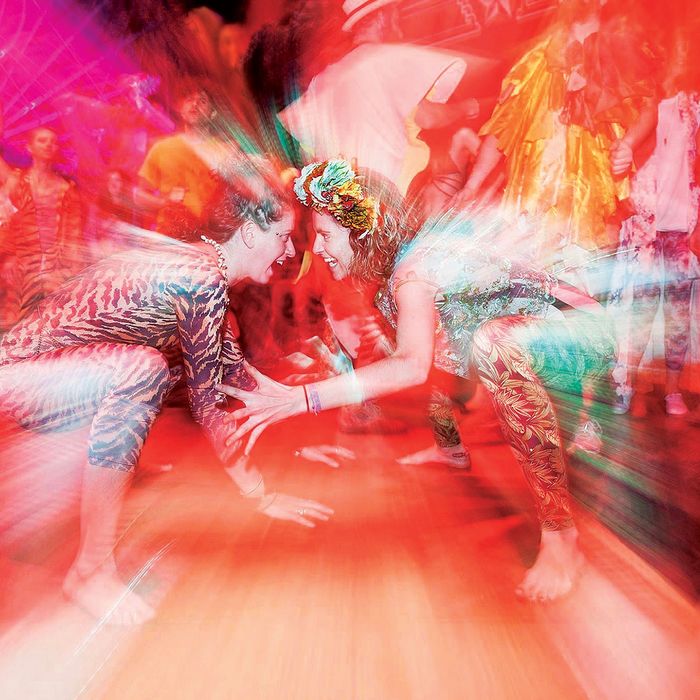 Some sober revelers at Pantheon Presents' Shine On Party.
Photo: Alvaro Saavedra
Young people: Recent studies show they're having less sex, they're smoking less, and they just aren't drinking like they used to. In May, the market-research firm Euromonitor International found that global alcohol consumption was down by nearly one percent — a seemingly small difference, but it's the first time that number moved south in over a decade. Meanwhile, global nonalcoholic- and low-ABV-beer sales are estimated to reach $12 billion by 2020, up from $8.36 billion in 2010.
This is in part owing to a widespread rise in "self-care": boutique fitness memberships, sound baths, detox diets (which of course involve abstaining from alcohol). But that's not to say young people are staying home on Saturday nights rearranging their crystals. They're going out — and enjoying a fully fledged sober-nightlife industry. It isn't happening just in New York and L.A., the land of a million juice bars and yoga studios, but also in places like Dublin, Tokyo, and London, where nights out now involve dry pubs, collagen-infused nonalcoholic beer, and fancy dining that includes tea pairings.
New York's Booze-Free Dance Circuit
Sydney Campos, a local health-and-wellness entrepreneur, picks out a party for every type of non-drinker.
For Start-up Types
"At Daybreaker, a series of alcohol-free early-morning dance parties, the crowd leans toward those who work in the tech world, which makes sense because the founders run start-ups. They just invite all their homies, so it's this funny intersection of start-up people and Burning Man people. They have corporate sponsors on lock, so you can get tons of free drinks and snacks. I go in there and get five drinks immediately: coconut water, chia water, all these obscure drink brands. These are roving, so they're always at a surprise location. The last one I went to was on a boat and I was ballin' out with snacks. It was a blast. I've seen Hillary Clinton cardboard cutouts on the dance floor. They also throw Dusk, which is the same thing but during happy hour."
For Yogis
"My friend who's a DJ and yoga instructor runs this event called Kundalini Disco, a Friday-night party at Golden Bridge Yoga on Centre Street. You start off doing Kundalini yoga, which is this really sensual breath-based practice, followed by an hour-long dance party that's a total workout where you're in this heightened meditated state. You're kind of in your own zone, all while listening to, say, a Bowie house remix. I always meet new people there, and those who celebrate Kundalini regularly tend to be very happy because it's a high vibe. You'll see a bunch of people wearing all white and probably holding some crystals."
For Hula-Hoopers
"During the summer, the event organizers Pantheon Presents started a series of early-evening dance parties called Vitamin D, which take place on the grass at North Brooklyn Farms, where you can watch the sunset as you dance. They had an all-female DJ lineup, which is pretty rare, playing deep melodic house. People burn incense and Hula-Hoop, and it's really nice to be outside. The Pantheon Presents women also organize a bunch of sober events around the city, and for their morning rave, Shine On, they've teamed up with the performance-artist people from House of Yes. It starts at six in the morning, and it's just an awesome dance party with good DJs, smoothies, and great snacks."
For Hippie Ravers
"The Get Down happens usually every other week at Cielo on weeknights from seven to ten. There's alcohol, but very few people are drinking at the bar. When people first come through, they're like, 'What is going on?' Everyone's dancing so hard that it looks like they're tripping out on ecstasy. People are either wearing yoga clothes, their work clothes, or Hammer pants. They have a live drummer with a DJ, and around 8:30, the DJ will stop, tell everyone to close their eyes, and there'll be a meditation in the middle of the dance floor. It attracts the type of people who might participate in a drum circle every now and then or who might have just one dreadlock."
On Drinking Cucumber Water for a Month in Melbourne
Febfast is an annual charity event in Australia for which participants give up alcohol for the month of February. Graphic designer Rachel Owen did it and reported back.
"In Melbourne, we start going out on Thursdays and it goes straight through to Sunday, so there's really only a few days that you don't go out drinking. I decided to do Febfast after a friend told me about it. My other friends were like, 'You're never going to make it through,' but then someone sponsored me for $100, so I was like, Okay, I can't let them down now. I went to a birthday party and drank water with cucumbers the whole time, but I managed to stay out until two in the morning and had a really good time. It's nice — many bars offer free juice during February. I went to one bar where they had your standard orange, apple, and tomato juice, but they served it with an umbrella in the glass to make it look like you're drinking a cocktail. I was like, Ooh! Plus, it was nice to know what it's like to not wake up all fuzzy from the night before. I've even had a few alcohol-free weekends since."
A Non-Drinker's Guide to London
Laura Willoughby, founder of healthy-lifestyle group Club Soda, on her favorite spots. "I take a liter of chilled tea with me and drink it in a wineglass," she says.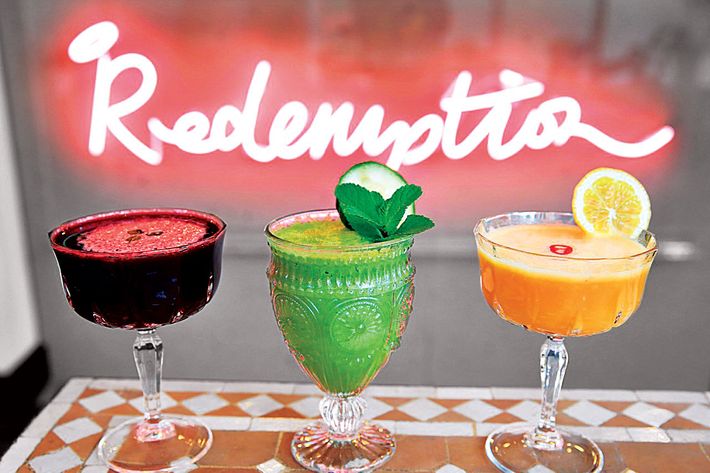 The Party: Love Is Key
"It's a once-a-month techno dance party that takes place on Saturday nights in Shoreditch and goes through Sunday morning — so it doesn't feel much different than a traditional club, except that everyone is a lot more friendly and relaxed. Most people are under the age of 30 — the common assumption is that young people drink a lot in the U.K., but actually the biggest group of non-drinkers are under 25."
The Bar: Redemption
"I find that at most other pubs, the bartenders don't know much about the nonalcoholic beverages they serve and they don't treat you with as much respect as the customers drinking alcohol. Here, the staff is so helpful and informative. I really like the energizing shots with ginseng. If I'm not drinking alcohol, I want a little variety in my drink options, so an herbal shot is quite nice to mix up the evening."
The Gay Night: Queers Without Beers
"I run a once-a-month event called Queers Without Beers for the LGBTQ community. It's usually at a pub because it's about having a dry night in a place that people are used to going to. There's no particular agenda; it's just everyone getting together and having a dry night in one of the gay bars in London."
The Fancy Restaurant: Gauthier Soho
"Gauthier Soho is a posh restaurant in Westminster, and they have a tea sommelier who will pair a lovely Japanese sencha with a cod dish. It's amazing because the tea brings out the saltiness of the cod and the fish brings out the umami of the tea. They even serve the tea in beautiful wineglasses. Once the sommelier overbrewed my tea and I sent it back. I would never have done that with wine because I don't know enough."
In Tokyo, There's Zero-Calorie, Collagen-Infused Nonalcoholic Beer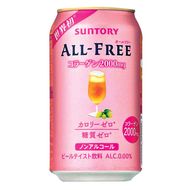 As Japan is drinking less and less, the country's big-four brewers are duking it out over health-conscious nonalcoholic beers. Last year, Sapporo launched the first beerlike drink certified by the Japanese Consumer Affairs Agency for its health benefits: "Sapporo Plus" contains a fiber that reportedly helps suppress sugar absorption. Soon after, Kirin launched the "Perfect Free" and Asahi the "Style Balance," both of which claim to reduce the absorption of sugar and fat. To outdo them all, Suntory concocted a new formula that contains .07 ounces of collagen with the idea of keeping skin looking young even as you "drink."
A Club Called Sober Lasted Only a Year in Stockholm
"I opened Sober in 2014. We breathalyzed everyone at the door and you had to get a 0.0. I served juice and nonalcoholic beer and wine. The first party was insane. We had 800 people. It was never bigger than that again. My target group of regular drinkers who might want a different night out never showed up. It was only recovering alcoholics and yoga people." —Mårten Andersson
Mocktails Are On the Rise in Plano
"The nonalcoholic part of our menu was really weak, so last year I came up with the Fruitea. We take strawberries or blueberries and put them in a French press with organic black tea and muddle them together. Now we sell five times more nonalcoholic drinks than before and we're starting a full mocktail program because this has proven to be so popular." —Joshua Hicok, operating partner at Pepper Smash: A Cocktail Kitchen
How to Dance While Sober
"You need to focus on how you feel as opposed to how you look. Closing your eyes helps make that shift. Just think about how the sound enters your ears or how your breath moves in and out of your mouth or how the bottom of your feet feel. Intentionally placing the thought on a specific body part takes you out of your self-conscious head." —Tasha Blank, New York DJ
L.A.'s Sound-Bath Socials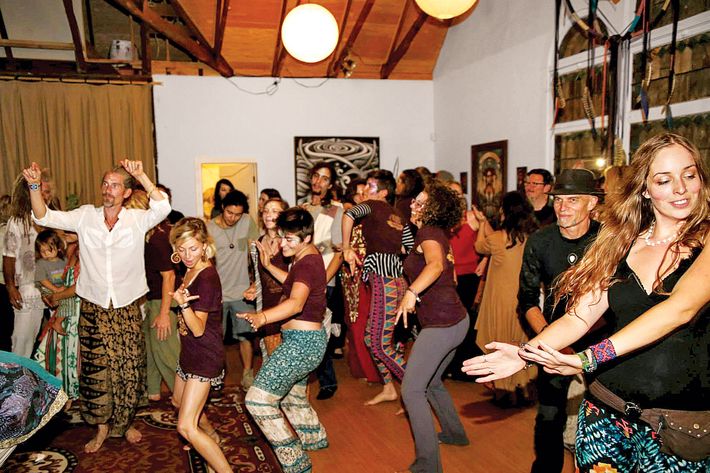 "Full Circle is a group based in Venice, and they do talks and experiential nightlife. I've been to one of their sound baths that had a gong guy, and afterward it becomes really social because your senses are completely opened, so you're way more open to speaking with people that you don't know. I guess it almost works like alcohol in that way — but on a deeper level because you're not having surface conversations. People talk about how they physically felt during the sound bath and share any visualizations they might've had, and you really relate to people who felt the same vibes. We talk about consciousness, spirituality, sustainability, left-wing politics, the environment. You're not going to get into a heated argument. You might get into a philosophical debate, but I've never seen a punch-up." —Mel Nahas, founder of the Conscious City Guide
Keeping Busy in Karachi — Where Alcohol Is Illegal
Former musician Leon Menezes, whose band played many pre-Prohibition-era gigs, explains that late-night movies have become popular.
"There's bootleg alcohol, but probably about 99 percent of Pakistan is dry, so people have found other ways to entertain themselves. Cinema has made a huge revival in Pakistan, and what surprises me is that they used to have 3:30 p.m., 6:30 p.m., and 9:30 p.m. showings, and now they have midnight shows and 2 a.m. shows and people are going! Nueplex is one of the most popular cinemas. I once drove by there at 6:30 a.m. and saw people just coming out. Also, about five years ago, they opened Port Grand right on the sea with restaurants and entertainment. They have a lot of concerts and music events there. You can go on a boat ride, get your palm read, and go to different shops. They're all open past midnight."
"They Go, 'What Do You Mean There's No Alcohol?' "
Dubliners seem skeptical of this new scene, according to Áine Rynne, a proponent of sober nightlife.
The older generation isn't quite there yet.
"Being a non-drinker in Ireland, like I am, is quite an unusual position to be in. When we started our music night Sober Sessions, we needed to make sure not to come off as anti-drinking or judgmental. We never said, 'Don't drink,' because that can be met with skepticism, especially from the older generation. They go: 'What do you mean there's no alcohol? What do you mean by that?' "
Nor are the venue owners.
"A lot of sober parties here pop up and disappear for a while because it's really hard to find a venue that works. This happened with FluX, which was a full-on dance rave with no alcohol, but most places only make money on the bar, so it's tricky to get it right. You have to spend a lot of money to get the party off the ground and then convince the venue owners that this is going to be worth it for them financially."
But late-night coffee culture's gaining speed — among non-Irish people.
"There are now coffee shops on every corner and barista competitions, but the problem is that most of them close at nine o'clock. Accents is one coffee shop that stays open till 11 p.m., and it's basically a late-night café. They have game nights and comedy nights that give it a pub atmosphere, but I've seen mostly young foreign students. Going there, I've often remarked, 'Wow, there are hardly any Irish people here.' "
How to Make a Beet Tonic Spritzer
1 ¼ oz. beet juice + 1 oz. honey syrup + ½ oz. lemon juice
Shake ingredients with ice. Double strain over ice in Collins glass. Top with 3/4 oz. ginger beer and tonic water. Stir slightly and garnish with orange peel. —From Taylor Rae Bunch, mocktail mixologist at Posana restaurant in Asheville, North Carolina
The Drunkest City in America
Appleton, Wisconsin, where 26.8 percent of adults are excessive drinkers. The runner-up cities — Oshkosh-Neenah, Green Bay, and Madison — also happen to be in Wisconsin.
*This article appears in the August 22, 2016 issue of New York Magazine.