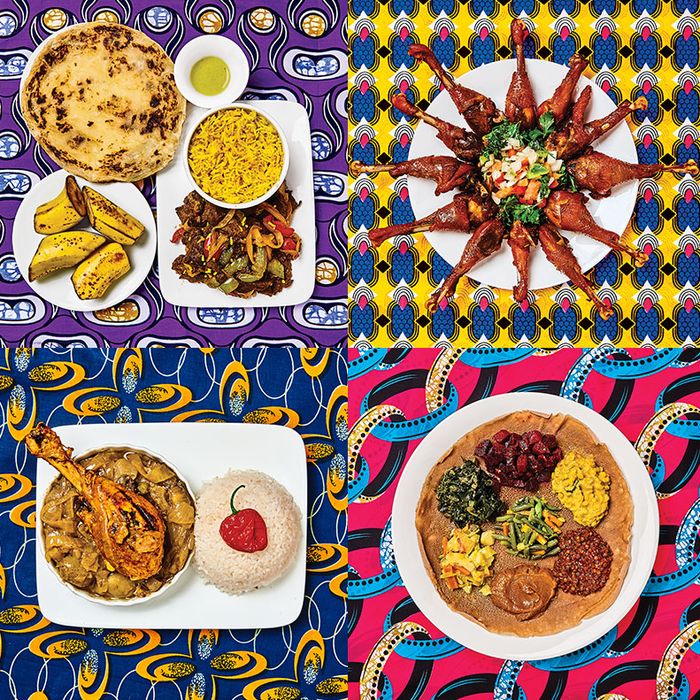 Take the A train to Africa.
Photo: Bobby Doherty/New York Magazine
Harlem's African-restaurant scene has been fairly insular, mainly attracting immigrants homesick for their native dishes. And as upper Manhattan continues to gentrify, beloved neighborhood spots clustered around 116th Street's "Little Senegal" have been displaced. The good news is that several have reopened nearby, joined by newcomers serving food beyond West African, from places like Somalia and Ethiopia. And the appeal of these diverse cuisines has begun to grow outside immigrant enclaves as American chefs like Sean Brock of Husk in Charleston and the Cecil's Joseph "JJ" Johnson take inspiration from the African diaspora and the aftermath of the slave trade on foodways and culinary traditions throughout the world. You may not yet have heard of mafe, but then you hadn't heard of Thai larb 20 years ago. And don't be surprised to see ingredients like red popping sorghum and nutrient-rich fonio on supermarket shelves sometime soon.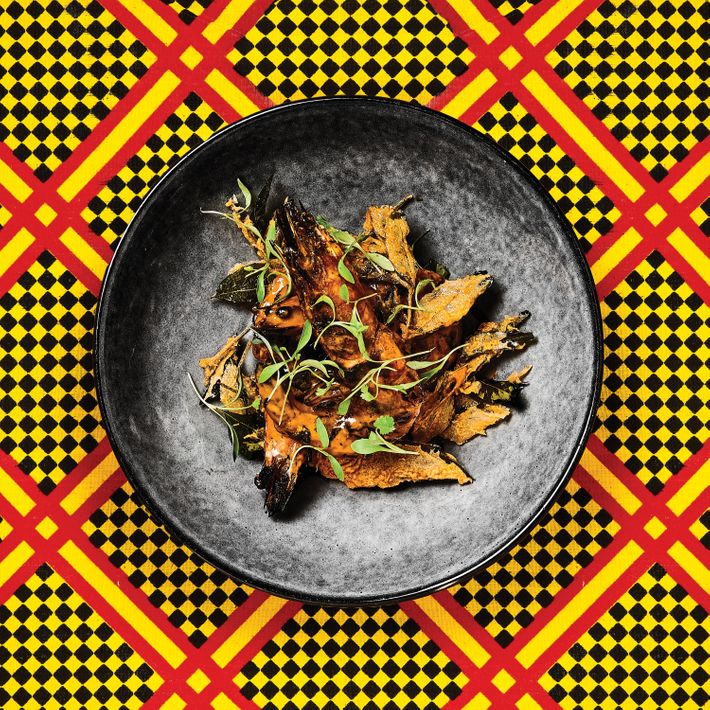 Afro-Asian-American
The Cecil
210 W. 118th St., at St. Nicholas Ave.; 212-866-1262
Chef JJ Johnson meditates on Ghana's rice culture in one dish (lamb plus rice), then invokes Nigerian suya in a grilled-short-rib appetizer. He sears immense, head-on prawns plucked from the Gulf of Guinea and serves them with fried curry leaves brined in palm sugar. The buttery, coral-red sauce that covers the shellfish riffs on groundnut stew, albeit one smoothed out with chicken stock and invigorated with shallots and ginger.
Senegal
Pikine
243 W. 116th St., nr. St. Nicholas Ave.; 646-922-7015
Pikine, which opened last fall, serves regulars who settle into its dinerlike booths at lunch. Most opt for hearty portions of thiebou djeun, Senegal's beloved national dish of broken rice simmered with tomato and brimming with planks of carrot and cassava and whitefish. Dibi lamb is an impressive allotment of browned chops that comes with boiled egg, couscous, and a mess of onions.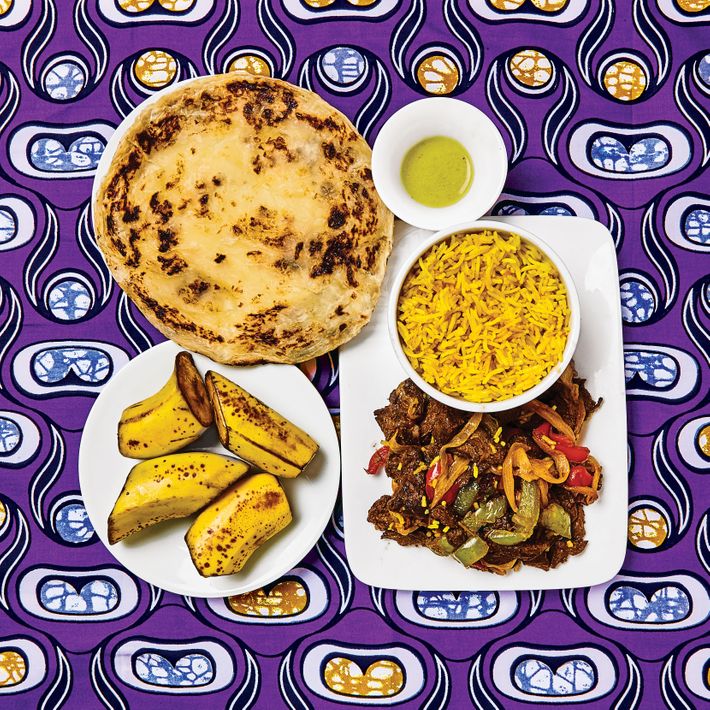 Somalia
Safari
219 W. 116th St., nr. Adam Clayton Powell Jr. Blvd.; 646-964-4252
When Somali-born Maymuuna Birjeeb opened her place in 2015, she stocked the kitchen with mangoes for curry and adorned her dining-room walls with the Osmanya alphabet. Blistered chapatis and flaky fried sambuzas resemble their counterparts from India, but bird's-eye chiles and fragrant berbere make their meat fillings stratospherically buoyant. Kalankal, or hanger steak browned in ghee, is meant to be eaten piecemeal with thinly sliced banana, like most Somali dishes.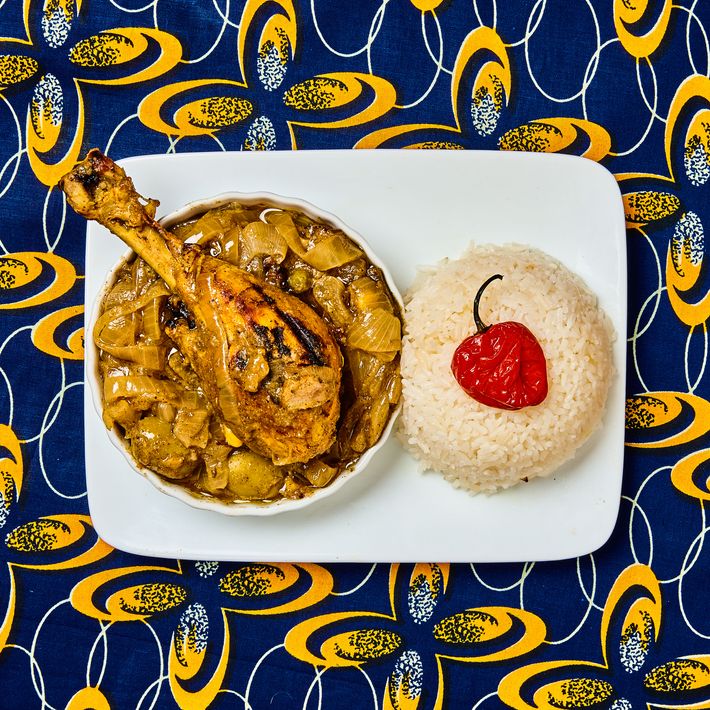 Senegal
Africa Kine
2267 Adam Clayton Powell Jr. Blvd., nr. 133rd St.; 212-666-9500
A beloved Little Senegal fixture since 1995, Africa Kine relocated farther uptown two years ago after being priced out of 116th Street, but co-chefs Samba Niang and Kine Mar have ensured the restaurant remains an institution. Smoky slow-braised chicken drumsticks smothered with citrusy yassa onions appear only on Fridays and Saturdays, the fish meatballs (domada djen) on Saturdays only. Big bowlfuls of lamb mafe, cooked with peanut butter and spiced tomato paste, are as good as ever.
Senegal/West Africa
Chez Alain
2046 Adam Clayton Powell Jr. Blvd., nr. 122nd St.; 212-678-7600
In daylight, the festive dining room has the feel of a Dakar disco during bar-restocking hours, down to the Wally Ballago Seck music videos flashing across the flat-screen. But plates of accara, a kind of black-eyed-pea fritter, hop with enough life of their own, and the thiebou djeun overflows with two-tone habaneros and jumbo fillets of red snapper. Suppu kandje is a funky masterpiece of okra and fish and fatty lamb half-obliterated in sauce and suspended in an ether of thick red palm oil, the essential flavor conduit of Senegalese cuisine.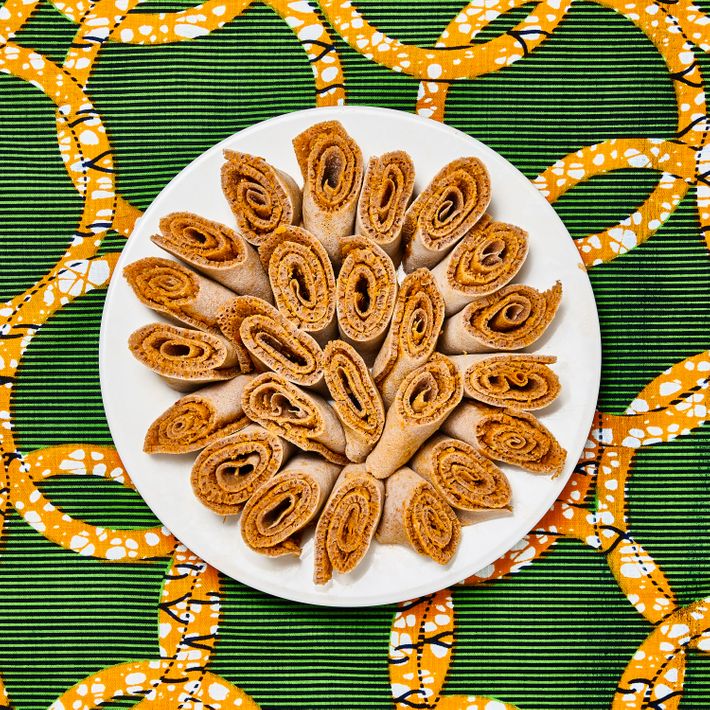 Ethiopia
Tsion Cafe
763 St. Nicholas Ave., nr. 148th St.; 212-234-2070
Co-owner Beejhy Barhany came to New York via Ethiopia and Israel, where she served in the army. Which might explain the smoked salmon in the injera-wrapped mound of scrambled eggs, not to mention the malawach, a Yemeni flatbread. Live music and plenty of art have made the café a gathering place, and no wonder: Its Hamilton Heights address was once Jimmy's Chicken Shack, where Charlie Parker worked as "pot walloper."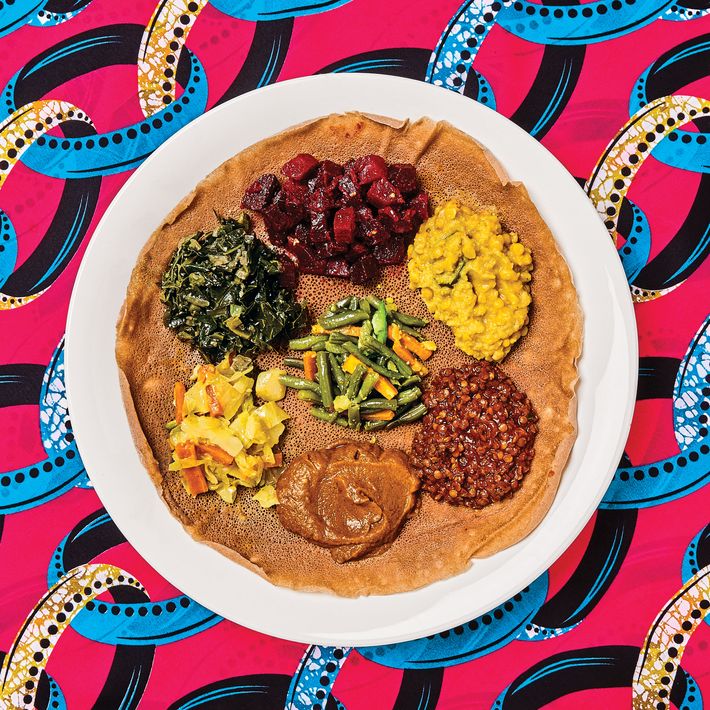 Ethiopia
Abyssinia
268 W. 135th St., nr. Frederick Douglass Blvd.; 212-281-2673
Like Africa Kine, the Ethiopian restaurant Abyssinia has recently rebooted; chef-owner Frehiwot Reta doubled her dining-room footprint and hung the walls with Ethiopian art. The vegetable combo is still a legume-heavy gauntlet of stewed lentils, meaty cabbage, and gomen — garlicky chopped collard greens cooked somewhere between al dente and squishy.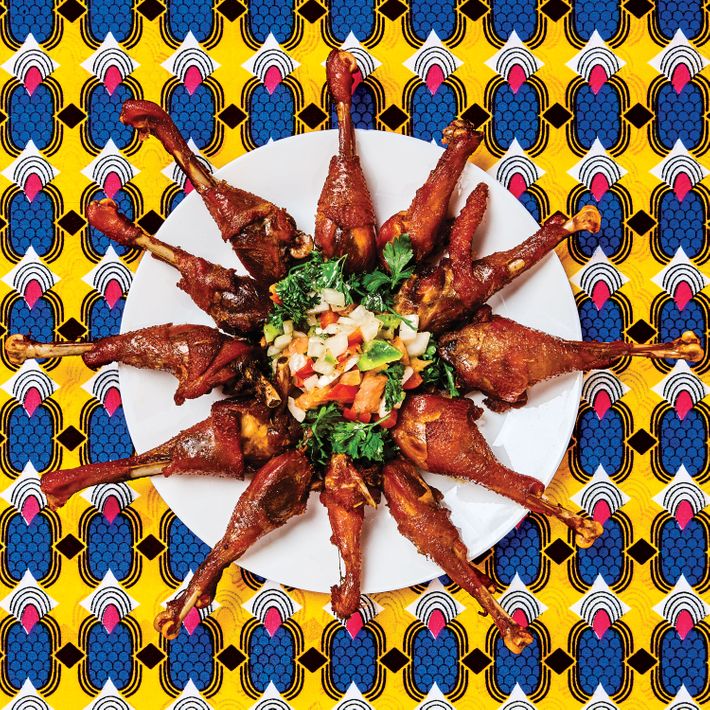 Côte d'Ivoire
La Savane
239 W. 116th St., nr. Frederick Douglass Blvd.; 646-490-4644
Partner David Dembele opened La Savane when he realized there was no reliable source of food from his native Côte d'Ivoire in New York. Fried pintade is guinea fowl in possession of the sticky, salty richness of good duck confit, and it's served with attiéké, a kind of fermented cassava that's a doppelgänger of couscous but with a sour flavor that can be dialed out with minced Scotch-bonnet chiles and the foil-wrapped Maggi cube served on the side for DIY seasoning.

*This article appears in the August 8, 2016 issue of New York Magazine.