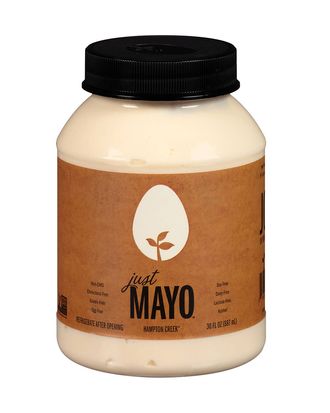 Maybe not so popular after all.
Vegan-foods manufacturer Hampton Creek may not be so virtuous after all. According to a new report by Bloomberg, the Just Mayo–maker and Hellman's nemesis pumped up sales by buying back its own mayo through contractors sent to Kroger, Costco, Walmart, Target, and Whole Foods stores around the country. Further, the contractors were instructed to call store managers pretending to be customers interested in Just Mayo. This was done, according to the report, to make it appear that there was stronger demand for the product, which would in turn encourage stores' product buyers to order more Just Mayo.
Josh Tetrick, Hampton Creek's CEO and founder, says the purpose of these buybacks was quality control, but emails obtained by Bloomberg suggest otherwise. In 2014, the company's then–director of corporate partnership Caroline Love told contractors in an email:
We need you in Safeway buying Just Mayo and our new flavored mayos … The most important next step with Safeway is huge sales out of the gate. This will ensure we stay on the shelf to put an end to Hellmann's factory-farmed egg mayo, and spread the word to customers that Just Mayo is their new preferred

brand.
In another email, Love referred to the buyouts as "an undercover project." In a statement to Bloomberg, Melanie Myers, who was also in the corporate partnerships team, says buybacks were for quality control but "we also thought it might give us a little momentum out of the gate." Three former contractors say buyouts continued into 2015, with verbal instructions replacing email, after a November 2014 email announced store buyouts would end.
Problematically, Tetrick did not disclose the buyout operation to investors while making the rounds in 2014, when the company raised $90 million. Hampton Creek began a campaign to purchase mass quantities of Just Mayo at least eight months before the funding round closed, according to five former workers and more than 250 receipts, expense reports, cash advances, and emails obtained by Bloomberg.
For his part, Tetrick says the program cost roughly $77,000, or less than .12 percent of the company's sales. As proof of the company's clean intentions, he provided 15 emails referring to quality-control assignments as well as a database of surveys the contractors were asked to fill out following purchases. Questions were related to breakage, ingredient separation due to extreme temperatures, and other quality-control issues. However, while the database included almost 3,900 entries from March 2014 to January 2015, it didn't account for hundreds more purchases verified by Bloomberg by emails, receipts, and expense reports.
Tetrick's argument isn't being bolstered by former employees, either. A pair of ex-senior staffers, who worked closely with the CEO in 2014 and 2015, say he initiated the buyouts to fatten sales. Further, a former contractor provided Bloomberg with receipts proving the purchase of more than 140 Just Mayo jars in a single day. As you might imagine, even the biggest vegan-mayo fan can't put down that much product, so a lot of the product went to waste: While some contractors donated jars to food shelters or gave them to friends and family, most say they threw the stuff out.
At the moment, Tetrick & Co. are looking for even more funding to help Hampton Creek produce more than 600 vegan food products including fake oysters, blue cheese, and more. That said, the popularity of Impossible Foods' high-tech veggie burger would indicate there is some audience for plant-based protein substitutes, even if it's smaller than Silicon Valley wants people to believe.