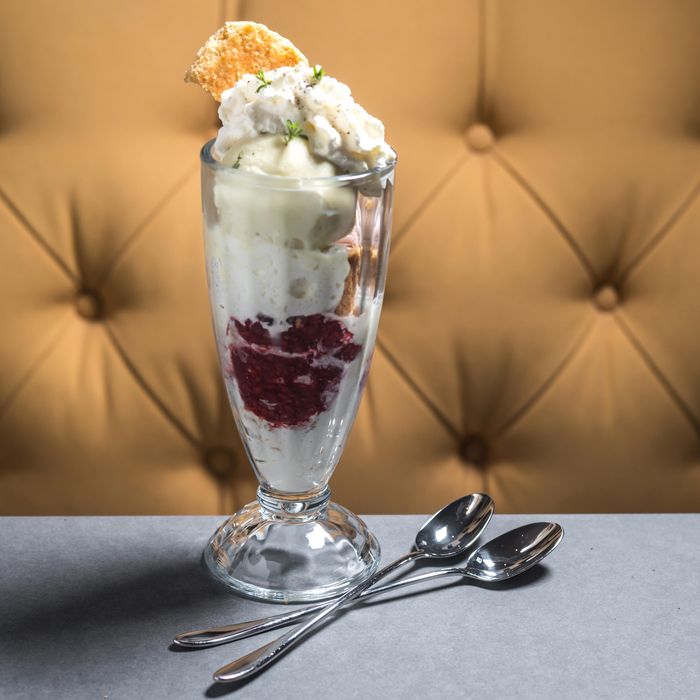 Have a sundae at Gristmill — you deserve it.
Photo: Paul Wagtouicz
Chocolate spheres and conceptual cakes can be great. More often than not, though, what you really want is a dessert you know and love. Nothing more complicated then an old-fashioned sundae or a couple of slices of a classic butter cake. Thankfully, chefs at many spots around town are turning out their own takes on the sweets they, and you, grew up adoring. Here, a dozen for your sweet tooth.
Sundae
Where: Gristmill
Price: $10
Wash down your pepperoni pie with this olive-oil-fennel and strawberry ice-creams sundae, topped with pie-shell crumble and black-pepper-honey whipped cream.
Chocolate Chunk Cookie
Where: BKW
Price: $8
New York has many excellent chocolate-chip cookies, but another never hurts. At this Crown Heights restaurant, it comes with whipped ganache and caramel.
Cinnamon Rolls
Where: L'Imprimerie
Price: $4
Bushwick's French bakery serves a kind of fancified cinnamon roll, made with laminated croissant dough that's topped with an appropriately ample amount of icing.
Lemon Meringue Pie
Where: Untitled
Price: $12
Finish your meal at the museum restaurant with a fluffy, toasted meringue pie spruced up with pecans and white chocolate.
Raspberry-Lime Rickey Float
Where: Cookshop
Price: $9
Swap out the usual root-beer float for a more summer-appropriate creation. Inspired by the lime rickey, a soda-jerk classic, it combines refreshing raspberry sorbet with lime granita and cucumber soda.
Tiramisu
Where: Bruno
Price: $13
At the funky East Village pizzeria, the Italian-American cake gets a makeover with peanut-butter mousse, berries, and cocoa powder.
Fried Mantou Ice Cream Sandwich
Where: Win Son
Price: $7
For this Taiwanese twist on the ice-cream sandwich, deep-fried mantou, the steamed bread, gets stuffed with a fat scoop of vanilla ice cream and drizzled in condensed milk.
Nana Pudding
Where: Carla Hall's Southern Kitchen
Price: $6
Chase your hot chicken with the classic southern dessert of banana pudding with, just as it's meant to be, vanilla shortbread.
Strawberry Cake
Where: Mr. Donahue's
Price: $7
At the throwback American diner, there's currently a Japanese-style strawberry cheesecake topped with strawberry purée, sliced strawberries, whipped cream, and wafer crunch.
Dark Chocolate S'More
Where: Daly Pie
Price: $30
You likely don't have a fire pit to properly make s'mores, so hit up this new Prospect Heights shop for a s'mores-themed pie, made with a graham-cracker crust, baked chocolate, and toasted marshmallow meringue.
Chocolate Truffle
Where: Covina
Price: $12
Devil's food will never go out of style. Here, the rich layer cake is paired with cocoa-nib meringue and refreshing lemon-verbena ice cream.
Mile High Funfetti Cake
Where: Hail Mary
Price: $11
Sometimes you just need a so-over-the-top-it's-towering layer cake, and for that cake to be Funfetti. Embrace the sprinkles.