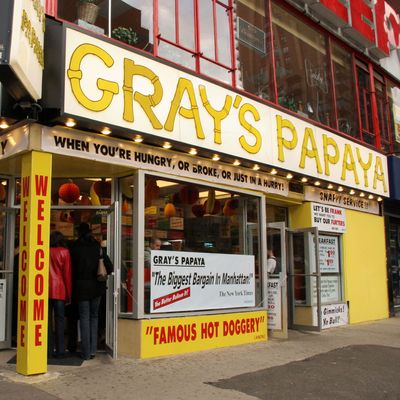 More hot dogs are on the way.
Photo: Lauren Klain Carton
Who says old New York is dead? Following years of doom, gloom, and shutterings, there's finally some good news for Gray's Papaya, the classic hot-dog-and-tropical-drink spot. After watching its once mighty empire of frankfurters reduced to just one location on the Upper West Side — while the chain's legion of imitators also lost ground to soaring rents and development — Gray's has struck back.
By the end of this year, the chain will open a new location at 612 Eighth Avenue, not far from a former branch that closed in 2011, which is certainly excellent news for hot-dog fans and grumpy New Yorkers who've been grumbling about change. The new Gray's will be near Times Square and the Port Authority Bus Terminal, where it will act as a hot-dog-powered tractor beam, and Gray's managed to nab a 20-year lease — meaning this Papaya likely isn't going anywhere, not for a while anyway.