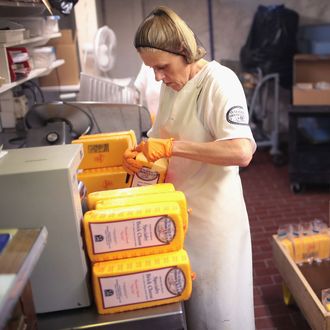 The country has 1.25 billion pounds of surplus.
Photo: Scott Olson/Getty Images
Americans may think there are worse problems than a vast oversupply of delicious cheese, but the country's dairy industry is genuinely in dire straights right now — more than a billion pounds of surplus cheese are just sitting around in cold storage, awaiting a buyer. The sluggish marketplace is the result of too much milk and too few buyers, especially overseas, and cheese-makers' revenues have slipped 35 percent since 2014 as a result. So yesterday, the USDA agreed to purchase 11 million pounds of extra cheese for $20 million, then donate it to food banks and pantries across the country.

"We understand that the nation's dairy producers are experiencing challenges due to market conditions," USDA Secretary Tom Vilsack said in a statement, explaining everybody sort of wins here because "food banks continue to see strong demand for assistance," and now they'll be getting a ton of tasty cheese. The bulk buy also comes on top of $11 million in subsidies the government earmarked earlier this month for dairy producers, and analysts think the industry will shortly be on the rebound. The troubles are global, though: The E.U. is subsidizing cheese-makers, and New Zealand is stress-testing banks (the dairy industry accounts for 10 percent of the nation's lending), plus there's a serious decline in consumer demand from China.

Producers in the U.S. actually asked the government for $150 million, more than a micro-nation's GDP, so even after the USDA gets its $20 million worth, that still leaves plenty of cheese uneaten, including more than 750 million pounds of American-style cheese. The duty is clear for all good patriots out there: Throw a wine-and-cheese party.