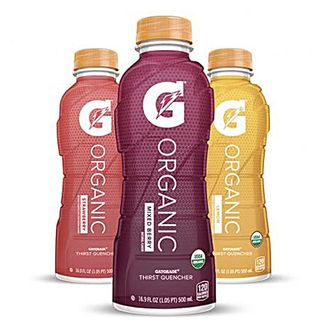 Liquid may have lost some of its Day-Glo luster.
Photo: PepsiCo
In a test of just how nominal a product label can get, Gatorade has released America's first USDA-certified organic sports drink. It took parent company PepsiCo's mad scientists two years to do it, but a company exec tells Bloomberg that something called G Organic is now available at select Krogers in strawberry, lemon, and mixed-berry flavors. In the coming weeks, the rollout will expand to additional supermarkets, bodegas, and even natural-food stores, since that's now theoretically a place the lab-invented bright-neon sugar water can be sold.
Gatorade says it heard "pretty loud through the locker rooms" that athletes these days want to "go organic." Serious work went into creating this new beverage that sets consumers back an extra 50 cents — Pepsi had to laboriously de-engineer Gatorade's artificial flavors and colors (G Organic has just seven ingredients, compared to 12 in regular bottles) and alter the manufacturing process. Kind of like when other corporations make highly processed foods "better," G Organic is still just as sugary, at 120 calories per 16.9-ounce bottle, although technically more natural and less harmful to the environment. Who knows what flavors Gatorade will add next to the line, but fans of Glacier Freeze and Arctic Blitz probably shouldn't get too excited.