The U.S. women's utterly dominant gymnastics team unveiled their commemorative cereal box on this morning's Today show, and it is … not Wheaties.
Wheaties-maker General Mills pioneered the idea of highlighting athletes on its boxes, of course, and yet, because of preexisting sponsorships, the gold-winning team — Simone Biles, Aly Raisman, Gabby Douglas, Laurie Hernandez, and Madison Kocian — will instead appear on boxes of Kellogg's Special K. (The Red Berries flavor, to be more specific.) The "Gold Medal Edition" celebratory boxes are double-sided: America's new individual all-around champ, Biles, on one side, with the full team on the front: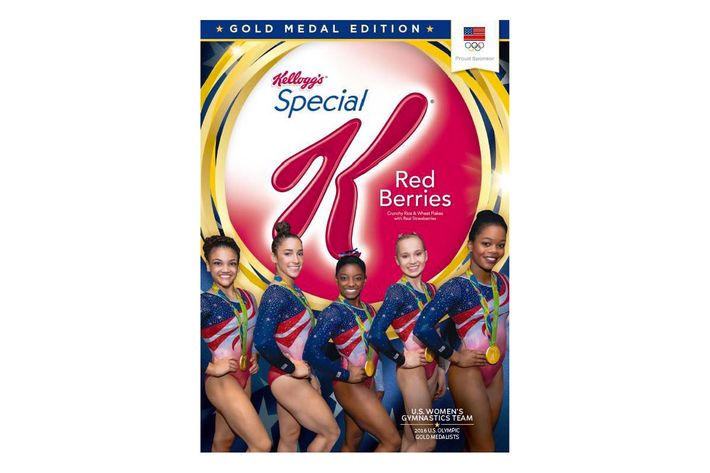 This isn't the first time Kellogg's has prevailed over General Mills in the battle to put the country's most beloved athletes on its cereal boxes. The 2012 women's team landed on boxes of Corn Flakes. This year, however, the champion gymnasts are on Special K, likely because Kellogg's really needs to move some boxes of this stuff. An AP story that ran just last week called attention to the brand's "fading popularity," noting that it's "dragging down Kellogg's sales." As CEO John Bryant stated so bluntly on a conference call, "Special K has been a major drag."
The Final Five deserve better than this, but if anyone can save a struggling cereal, it's probably them.