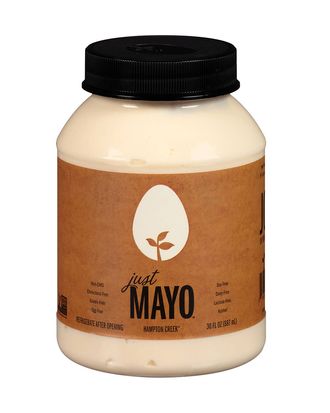 Egg-free and under investigation.
Who knew that something as seemingly mundane as vegan mayonnaise could be such a lightning rod for controversy? The Securities and Exchange Commission has opened an inquiry into whether Just Mayo–maker Hampton Creek broke the law by not disclosing that it had hired contractors to buy back its own product off store shelves. The sketchy-sounding program went down in 2014 when Hampton Creek raised $90 million from big-time venture capitalists, and the agency wants to determine if the company didn't properly recognize revenue from those purchases.
While this doesn't look great for Hampton Creek, the inquiry is a preliminary step, and it doesn't mean the company will face any consequences. The program was uncovered by Bloomberg earlier this year, in a report that revealed that contractors were instructed to drum up interest in the product through tactics like pretending to be customers when calling stores.
While CEO and founder Josh Tetrick argued that the buybacks account for only .12 percent of sales and it was done for quality assurance, former contractors and senior staff have directly contradicted him on this assertion. Tetrick would no doubt like this to blow over as soon as possible, as he told employees recently that he expects to raise another financing round that would value the company at $1.1 billion. This would, of course, allow Hampton Creek to enact its world-domination plans of eggless everything.