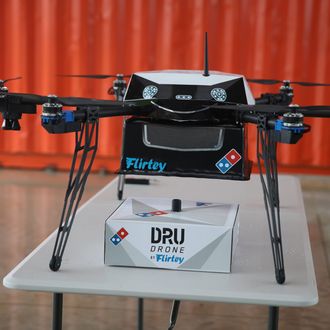 The sharp-propellered future of pizza delivery.
Photo: Courtesy of Flirtey
In a highly sought-after industry-wide first, Domino's announced today that it has developed a viable drone delivery system in partnership with Flirtey, the start-up that just helped 7-Eleven complete the first-ever FAA-approved drone delivery. Since drone delivery in America remains a rat race, the chain's victory comes in New Zealand (there will be no aerial pie drop-offs Stateside for the time being). But the chain's definitely working on it, it says, and is optimistic about using drones soon in Australia, Belgium, France, the Netherlands, Japan, and Germany.
"We've always said that it doesn't make sense to have a two-ton machine delivering a two-kilogram order," Don Meij, the CEO of Domino's arm that operates in all of the aforementioned countries, explains. The company imagines customers placing orders via the app, and drones using a smartphone's GPS to track the person down. The actual pizza hand-off will have some Mission: Impossible–style effects: Pizzas will be "lowered out of the air" (there's a demonstration in the video below) in order to ensure the robots don't, say, chop off a bystander's nose. Nonetheless, Meij promises customers "will be excited by a drone delivering their pizzas from the store to their door."

It's not the first time pizza has been delivered by drone, but Domino's claims it is the world's first regular drone-delivery service for pizza. Domino's win shouldn't come as a surprise, really. The arm that operates locations in Australia and New Zealand has done more for high-tech pizza than frankly ever needed to be done, including WALL-E-eyed delivery robots, ovens that cook pies in three minutes flat, an app that tracks customers who place pickup orders. The chain says flights from the New Zealand store it selected will begin within the year.