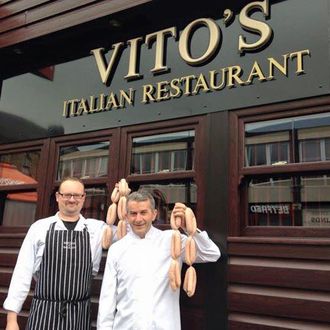 Here's to no more "Mr. A G."
Photo: Facebook
A British restaurant owner has gotten textbook-perfect revenge on possibly the dumbest dine-and-dasher ever. The customer's taste of karma began after he covertly hopped onto TripAdvisor as user "L261CBandrewg" and penned what he hoped would be an epic but anonymous takedown of Vito's Italian in Sheffield. His typo-ridden slam awarded the joint a single star and was titled "The worst and most over priced place to eat in Sheffield":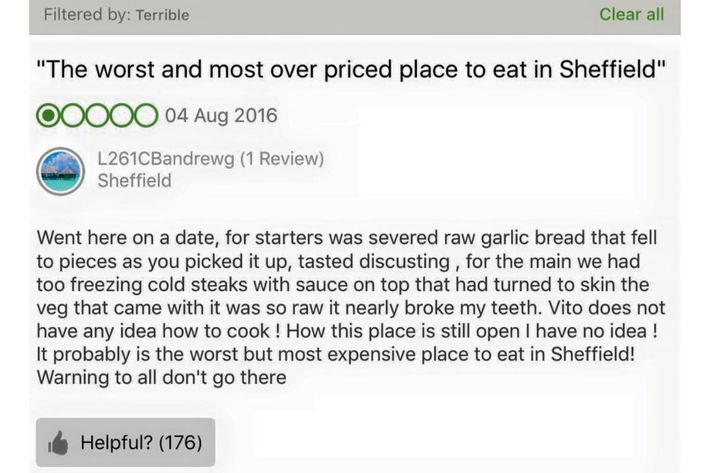 Unfortunately, owner Vito Ciaraolo realized the particular details of this person's review fit only one diner: the same guy who'd been arrested for ditching an £80 steak dinner with his female companion earlier that year. It didn't help that the review appeared just days after authorities made the man settle the outstanding bill.
In his reply to L261CBandrewg — whom Ciaraolo just calls "Mr. A G" — he lets him know it didn't take a genius to put two and two together:

You fail to mention that after eating all of your meal you subsequently did a "runner" and did not pay for the food you ate. Luckily your antics were captured on my CCTV system. I would therefore invite anyone reading this review to take a look on my restaurant page (facebook) and view the CCTV footage to witness your disgraceful behaviour.

You simply came for a meal at my restaurant when you knew from the word off you had no intentions of paying. After finishing your meal you did not complain about anything, you merely said that you were popping outside for a cigarette (as some customers do). However you then decided along with your delightful "date" (the one hiding behind the skip on the CCTV footage) that you would not pay the bill - what a nice way to impress a woman!
Ciaraolo couldn't let the "severed garlic bread" line go by ("sounds amazing"), and concludes by telling the man he's involved the police yet again. As he also points out, this was a multimedia rebuttal that included security-cam footage, which he posted in its entirety on Facebook. It allegedly shows the man's "date" crouching by the roadside, then leaping into a fleeing car: