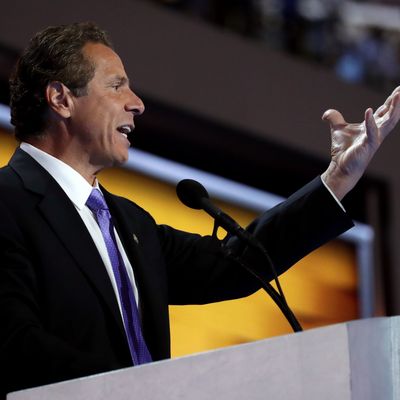 Governor Cuomo summoning the local produce gods.
Photo: Chip Somodevilla/Getty Images
Already home to the 40-acre Hunts Point Market, the Bronx will soon have a second behemoth food-distribution center. Governor Andrew Cuomo announced a $20 million, 125,000-square-foot market that will be built for the express purpose of connecting New York farmers with the city's consumers. Set to be built within the next year, it's part of his administration's ongoing efforts to bolster local agriculture.
Along with the market, the governor announced a new certification label initiative, "New York State Grown & Certified," for which farms that pledge not to use particular chemicals and agree to state inspections will be able to label their food. In introducing the program, Cuomo took specific aim at the opaqueness and meaninglessness of a lot of food labeling, describing a conversation he had with his daughters wherein he told them many terms like cage-free "don't mean anything." Investing more in promoting local agriculture appears to be a pet project for the Cuomo administration, which earlier this year set aside $50,000 in the name of better boozy cider.