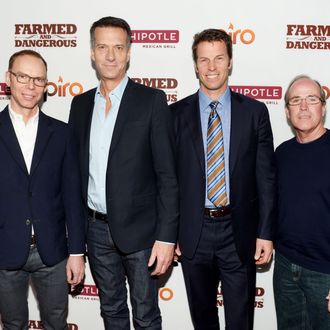 They've got height diversity covered, at least.
Photo: Jason Kempin/Getty Images
The nation's largest burrito chain has an open board position for the right candidate — in short, somebody who's not white and not male, like everybody else. White male spokesperson Chris Arnold tells Bloomberg they're currently "interviewing for a new board member now" and even "considering additional board changes to meet longer-term needs" in order to placate investors who think the homogeneous top-level leadership is problematic.

The high-level opening comes on the heels of investors criticizing the company's "insular board that lack[s] racial and gender diversity." Critics say the un-diversified hive mind at work has plagued Chipotle's turnaround efforts since the health scare hit. Right now, the board members include eight white dudes — co-CEOs Steve Ells and Monty Moran, Albert Baldocchi, John Charlesworth, Neil Flanzraich, Patrick Flynn, Stephen Gillett, and Elon Musk's brother Kimbal — and one white woman, Darlene Friedman.

Back in April, activist investors affiliated with the labor group Change to Win tried lobbying Chipotle's other shareholders to withhold support for two board members. Both directors ultimately got reelected, but the act itself apparently put some fear into Chipotle, whose leadership is hoping some boardroom diversity (even if it's just one-ninth) will win back investors' trust. "We have been active in communicating with our shareholders and, as we generally do, are taking action based on their feedback," Arnold explains.