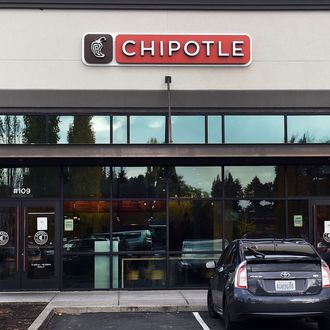 Judge says to grow some thicker skin.
Photo: Steve Dykes/Getty Images
The National Labor Relations Board has come down hard on Chipotle for punishing a Pennsylvania employee who openly criticized the company. The board upheld an earlier ruling by administrative law judge Susan Flynn, who said the company violated James Kennedy's right to complain about his own job when it fired him for starting a petition over break policies.
In a series of tweets, Kennedy also wrote things like "Nothing is free, only cheap #labor. Crew members only make $8.50hr how much is that steak bowl really?" and, in reference Chipotle's extra charge for guacamole, "It's extra not like #Qdoba, enjoy the extra $2." Flynn had ruled that both the tweets and petition "had the purpose of educating the public and creating sympathy and support for hourly workers," however the NLRB reversed Flynn's finding that asking Kennedy to remove the tweets violated the National Labor Relations Act.
However, a month after the tweets in question, an "animated conversation" erupted between Kennedy and his manager when she told him to stop circulating a petition claiming employees weren't getting adequate break time. She fired him, claiming it was because she feared Kennedy, an Iraq war vet with PTSD, might become violent.
To justify her fear, she noted that Kennedy "punched boxes when breaking them down for recycling," and one time refused to help her change a light bulb. In her ruling, Flynn blasted that argument as "ludicrous," writing: "If it weren't such blatant disability discrimination, [the manager's] testimony would be laughable." That ruling, NLRB panel affirmed, did violate the law.
This post has been updated throughout to reflect the fact that the NLRB's panel reversed the judge's ruling regarding the deleted tweets.