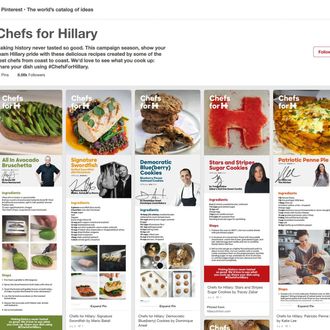 Recipes go heavy on the letter "H" and bad puns.
Beyond confessing to a hot-pepper-a-day habit and soft spot for Red Rooster, Hillary Clinton is rarely one to wax poetic about food. (Bill needs some sort of job.) But that doesn't mean she can't appreciate life's comestibles, especially if they might also bring in votes: To prove that, and also perhaps solidify her anti-well-done steak position, her campaign has set up a #ChefsforHillary page on Pinterest soliciting endorsements by way of new recipes. The idea is to give supporters tasty and (in theory) uncomplicated dishes that they can bring to organizing events, campaign rallies, election parties, or what have you.
Here's how the Pinterest page puts it:
Making history never tasted so good. This campaign season, show your Team Hillary pride with these delicious recipes created by some of the best chefs from coast to coast. We'd love to see what you cook up: Share your dish using #ChefsForHillary.
The campaign enlisted a handful of big names to kick things off: Mario Batali contributes a grilled swordfish alla messinese, Dominique Ansel offers up a recipe for blueberry-pecan-oatmeal cookies, the NoMad's James Kent gets fancy with a tuna-tartare dish, and Pearl Oyster Bar's Rebecca Charles throws down a "Lady Liberty Lobster Roll." Let's hope the campaign steers away from recipes "created" by Bill, though. The last time he did that, he just aped a lousy one from Betty Crocker.