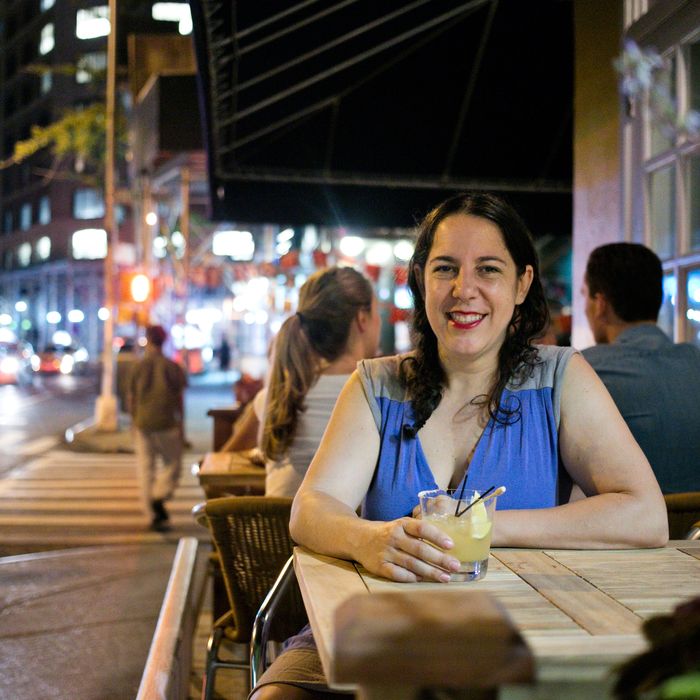 Gerson outside of Paowalla, a new favorite.
Photo: Melissa Hom
Most New York chefs rarely cook at home, but Fany Gerson — the owner of Dough and La Newyorkina, who's also opening a shop devoted to the frozen sweets of Mexico in September — prepped food in her tiny New York kitchen several times this week. For a dinner party, she made a Middle Eastern feast complete with za'atar man'oushe and beef kofta, and for late-night solo dinners, zucchini-blossom soup and a sincronizada with blue-corn tortillas. Read all about it in this week's Grub Street Diet.
Thursday, August 18
I wake up at 6:30 a.m. daily (or try to) to classical music. I'm definitely not a morning person, and I try to eat something within the first hour I get up, but could honestly skip it. I grabbed a glass of cold water and a nectarine.
I worked for a few hours from home doing the last round of edits for the Mexican-ice-cream book I wrote, and then headed to Dough in Flatiron. I stopped by Haven's Kitchen around noon to grab a quick lunch, and had a chicken-and-rice soup with mixed green salad with herbs and peaches. I walked to Dough and grabbed a handful of candied hibiscus to snack on.
I took a couple of bites of a warm cinnamon doughnut at some point, but didn't look at the time. I left Dough around 6:30 and met my husband, Danny, at Fairway to pick up groceries, as we were having some friends over for dinner on Friday. I was starving and snacked on samples of delicious goat cheese from Spain and France, and grabbed some dried apricots, and headed home. It was close to 9 p.m. by the time we got there, and I heated up a bit of roasted chicken I had picked up at Dickson's. I pulled some of the dark meat and tossed it with some radish sprouts, tomatoes, cucumber, red onion, a delicious fresh cheese from Australia I get around the corner from my house, and an anchovy vinaigrette I had made.
Friday, August 19
I woke up around 7 a.m. and had a tall glass of lemongrass tea (the lemongrass came from our CSA). I made some scrambled eggs with smoked ham from Dickson's, a slice of sourdough toast from Amy's Bread, and a couple of sliced Persian cucumbers tossed with cider vinegar, olive oil, salt, and pepper. Worked from home for a bit and headed to Dough. I grabbed a Crispin apple from the farmers' market on my way out.
I have a friend who loves Blue Apron and she gifted me a trial week: I knew before but confirmed it was definitely not for me! Nonetheless, I had made a quinoa salad with shishito peppers and miso dressing and took it for lunch. It was better than I thought, but not my thing at all!
I had a meeting in the West Village that finished close to 5 p.m. I was a bit hungry and was literally taking some almond-butter-with-maple snack from my bag when I walked right in front of Buvette. I was really stressed out and decided to go in instead. I had a delicious ramekin dish made with roasted artichokes, tomatoes, goat cheese, and bread crumbs. I also had a glass of sauvignon blanc while I waited, and those 20 to 30 minutes really made me happy and calmed me down.
I arrived home around 6:30 and had friends coming over at 8 p.m. Danny and I were in the mood for Middle Eastern food and he had prepared some stuff ahead of time as our kitchen is tiny (even by New York standards) and only one of us can be in there at a time. I hurried to get the rest done. So I quickly made dough for za'atar man'oushe, pickled some onions, and made a couple of salads. Luckily, our friends arrived late. I had some Bulleit rye on the rocks and sat down for dinner. We had lamb and beef kofta, a bunch of different salads — Persian rice, fennel salad, Israeli salad — and a smoked eggplant side. For once, I didn't have time to make dessert, which bummed me out, but our friends bought a huge cheesecake from Lalo's with berry jam on top. It was frozen in the center, but quite good nonetheless.
Saturday, August 20
Woke up around seven, drank lots of cold water as it was very hot in the apartment, and had a plain low-fat yogurt with cinnamon-vanilla granola made from roasted nuts by my friend Michelle, who owns a grainless, gluten-free bakery in New Jersey called the Squirrel and the Bee.
I headed to Dough in Bed Stuy and had a plum when I got there. I was there for a short while, and then got a ride to the city with our driver, who was delivering all the glazes and stuff for our Flatiron store. I asked him to drop me off by 14th Street. I walked to Black Seed Bagel, which I hadn't had a chance to try, and picked up a couple sandwiches. I chose a poppy-seed bagel with scallion cream cheese, red onions, tomatoes, and a squeeze of lemon. I ate half and the rest when I got home. I then had two yellow peaches and sprinkled tajín [salted chile with lime seasoning] on the second bagel.
I had to work doing costing for the new shop I'm opening for La Newyorkina, and frankly I hate doing that stuff! After several hours of working, I needed a break and decided to go to the movies, around 6 p.m. I headed to Lincoln Center Film Society and had a small popcorn. I was quite hungry when I got home but didn't want a heavy dinner, so I heated up some Mexican-style zucchini-blossom soup I had made (with delicious blossoms from Berried Treasures), and had a quesadilla made from tortillas and Oaxacan quesillo I had brought back from Mexico, with a roasted-tomato salsa.
Sunday, August 21
On Saturday, Danny kept telling me I hadn't taken a day off in forever (except when we were away and I still worked a bit), so I promised him I would take a day off.
We woke up around 8 a.m., had a warm glass of water with lemon, hung out at home for a bit, grabbed a quick sourdough toast with almond butter, and headed out. We rode our bikes from 90th Street to 17th Street and stopped by the High Line to grab a paleta (and check on things). I had a cucumber-lime, and we shared a coconut one. We rode down to Brookfield Place, as I hadn't been, and we went to Jose Garce's place, Amada, and ordered a bunch of things to share. The only thing I really liked, though, was a really tasty green salad with asparagus, fava beans, and avocado. I also nibbled on croquetas, gambas al ajillo, and couple of other tapas.
We got back on our bikes and rode along the East Side, and got to the Cooper Hewitt Museum around 5 p.m. Then we headed home, and I had a yellow peach and some cherries, and met some friends around 7:30 for dinner at Toloache.
There, I had a glass of Mezcal de Leyenda — the one from Durango and a personal favorite — a fluke ceviche, and two steak tacos with avocado and lots of salsa. We headed home and went to bed early (for once).
Monday, August 22
Woke up at 6:30 (barely), had a glass of hot water with lemon, and a bowl of diced-up peach with cottage cheese. I headed out to a couple of meetings and went to Dough in Flatiron. My friend Norma, visiting from Mexico, came to meet me and we grabbed lunch at Union Fare nearby. I had a yellowtail salad with yuzu dressing.
We went to Paper magazine for a meeting there, and I had to rush home, as I needed to catch up on work. I had a sincronizada — it's like a quesadilla but not folded — made with blue-corn tortillas from Mexico, with turkey and Oaxacan quesillo cheese, with the salsa I made a few nights before.
Every Monday, I go with my best guy friend, Buho, to a boxing class at the gym, and most weeks to Yama to have sushi. As is tradition, we went to the class and dinner. We had a couple of friends join us this time. We had edamame, shrimp shumai, and a few rolls that we shared. We always get the jalapeño roll. I like to dip them in ponzu instead of soy sauce. We also had some warm sake. I went home and stayed up late catching up on stuff.
Tuesday, August 23
Woke up at 6:30 and had a glass of hot water with lemon, and a piece of toast with almond butter. I headed out to Red Hook, to La Newyorkina, had some meetings, and ate a tamarind paleta (my all-time favorite growing up) and tried some spoonfuls of the ice creams we've been testing.
My friends Norma and Niki, who also flew in from Mexico, had prepared a delicious feast for a wedding a few days before. They had left some stuff for us to try, so I had a couple of delicious pork adobo tacos at around 12:30 p.m. with pickled white onions.
Later on, I went to see my friend Homa, who makes White Moustache yogurt, a few blocks away. She gifted us a whole box. At around 3 p.m., as I headed to the storage unit to pick up some stuff for the store, I snacked on the delicious yogurt with little bites of walnuts and orange-blossom honey.
I ran some errands, but went to a Pilates class afterward. I grabbed a quick lemon-marinated shrimp and a cucumber salad next door, and headed to meet Danny and a friend for a salsa class. We got home around 9 p.m., and I was really hungry but, again, didn't want to have a big dinner. I had some wheat berries I had cooked and tossed them with a bunch of vegetables and heated up a bit of leftover shredded chicken. I made a quick mustard dressing and ate it straight from the bowl, which would make my grandmother cringe, but I loved it.