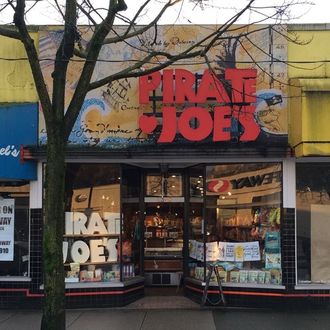 Completely "unauthorized," the store admits.
Photo: Pirate Joe's
Since 2012, Michael Hallatt has operated a retail store that sells Trader Joe's products at a high markup to desperate people in Canada, where the chain has no presence. He has absolutely no authorization to do this, but maintains he's found a loophole so the business technically violates no laws. It's a claim U.S. courts have so far agreed with, but the company still refuses to stop suing Hallatt's "Pirate Joe's." Now, for the first time, a federal court has ruled in the grocery chain's favor: The AP reports that last week the Ninth U.S. Circuit Court of Appeals overturned a previous ruling dismissing Trader Joe's claims of trademark infringement.
The lower court's decision argued that Trader Joe's failed to explain how Hallatt's store affects U.S. commerce (since it caters to luckless Canadians). But the Ninth Circuit argued that the existence of $6 jars of gray-market Speculoos may be hurting Trader Joe's reputation and devaluing its products in America. Hallatt says he's never pretended to be a legit affiliate, and contends that, despite aisles full of its products, Pirate Joe's doesn't even look like Trader Joe's.
The grocery chain obviously disagrees, but regardless of his knockoff's legality, Hallatt has been a pretty comical thorn in Trader Joe's side all the same. In its 2013 lawsuit, the company explained he dons disguises to trick stores into selling him thousands of dollars of products, and pays accomplices to shop for him as far away as California. Trader Joe's estimates he's resold more than $350,000 of its products.
Hallatt's attorney says they're reassessing their options, but definitely don't plan to back down. The case now goes back to a Washington state district court for another look.