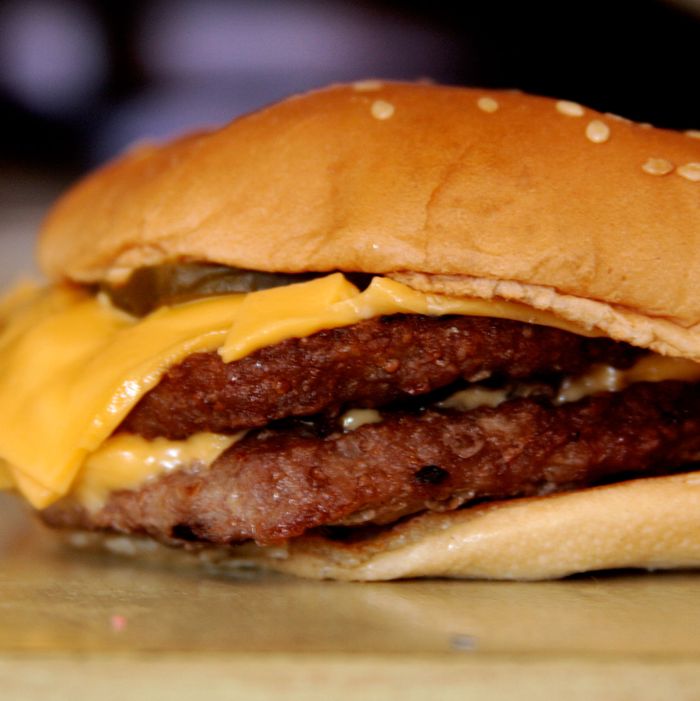 Sad, sad burgers.
Photo: Mike V/CC/Flickr
The United States is, through and through, a hamburger nation. Americans find an excuse to eat burgers for every possible occasion, and rightly so. It's almost unfathomable that something might actually cause people to collectively eat fewer of them, but, according to a couple of fast-food CEOs, this insane election campaign has done exactly that.
During an earnings call yesterday, Wendy's CEO Todd Penegor said that when consumers are "trying to figure out what this election cycle really means to them, they're not as apt to spend as freely." And Penegor isn't the only fast-food CEO freaking out about politics spoiling lunch. The same-store sales at McDonald's rose 1.8 percent — which is less than what analysts expected — and CEO Stephen Easterbrook believed it was because "there's a broader level of uncertainty in consumers' minds … people are slightly mindful of an unsettled world." Even fast-casual darling Shake Shack's same-store sales disappointed analysts, falling 1 percent short of an expected 5.4 percent gain, causing the chain's stock to drop 8.5 percent.
Not everyone buys it, though. Others have argued that the restaurant industry as a whole is headed toward a recession. One financial analyst paints Penegor's comments as "a lot of speculation," and says the decline in business has more to do with the fact that fast food is seen as less of a value compared to grocery shopping. Regardless, the burger industry is also in trouble for another reason: Americans' increasing appetite for things other than beef.
In fact, consumers have been eagerly embracing non-beef burgers that would have once been considered treasonous. Nowadays, everyone who is anyone — even meat-crazy chefs like April Bloomfield and David Chang — loves a good veggie burger. And new fast-food chains have built substantial businesses by offering hamburger menus that downplay beef. Half of the burgers offered by southern chain Burger 21 don't contain cow protein, while Florida chain BurgerFi says its veggie burgers now account for 15 percent of sales. When even the welfare of hamburgers — the most American of foods — is at stake, you know the country is really teetering.