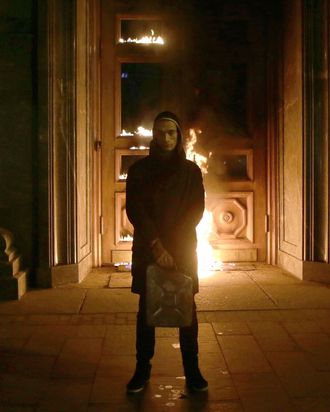 Inspiration for the "burnt on one side" burger.
Photo: Nigina Beroeva/AFP/Getty Images
Burger King's first St. Petersburg location is turning six this year. To celebrate, the chain has unveiled some limited-edition burgers — a completely standard, if often forgettable, tactic. The problem is the theme BK chose for this festive occasion is just downright weird: It's a series of four burgers, each paying special tribute to controversial performance artist Petr Pavlensky. He's constantly being arrested for his art, things like nailing his testicles to the cobblestones of Red Square. He also once cut off his earlobe with a chef's knife, and has demanded his work be "reclassified" as terrorism.
In short, these new burgers sound Tim Burton-y at best, and creepy AF at worst. Here's how Burger King is describing the four choices to the press. Start salivating now:

1. A burger that's been "partly sewn shut" to commemorate Seam, that time when Pavlensky sewed his mouth shut to protest the Kremlin's jailing of Pussy Riot.
2. A sub-style burger wrapped in "edible barbed wire" as an homage to Carcass, the time Pavlensky stripped naked and got into a cocoon of barbed wire to protest repressive government policies.
3. A burger that's "burnt on one side" to celebrate Lubyanka's Burning Door, the time Pavlensky set the Federal Security Service's door on fire.
4. A burger that comes with an egg "nailed" to the plate, in honor of the infamous Fixation performance in Red Square.
Several Russian media outlets thought the whole announcement was some sort of elaborate gag, but the chain's reps assure everyone this is for real: "It's no joke. Pavlensky is a famous figure in Petersburg. We respect him," one spokesman tells Russian news site Meduza. The inventor of the Whopperitto and Mac N' Cheetos argues it's "bringing culture to the masses."