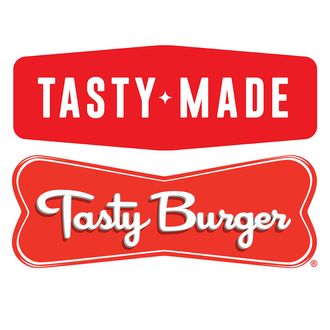 Chipotle's foray into burger-flipping is off to what you might call an aggressive start: A small but growing Boston-area chain says the burrito giant purposefully ran roughshod over its trademarks when branding its new concept. Chipotle went with the name "Tasty Made" and styled the logo with white font inside a red banner that flexes in the center. But since 2010, Tasty Burger has used a logo with white font inside a red banner that caves in at the center. Iffier still, both brands have a secondary logo — the thing you might stamp on burger wrappers — that's black, round, and lists food items in a circle around the outside: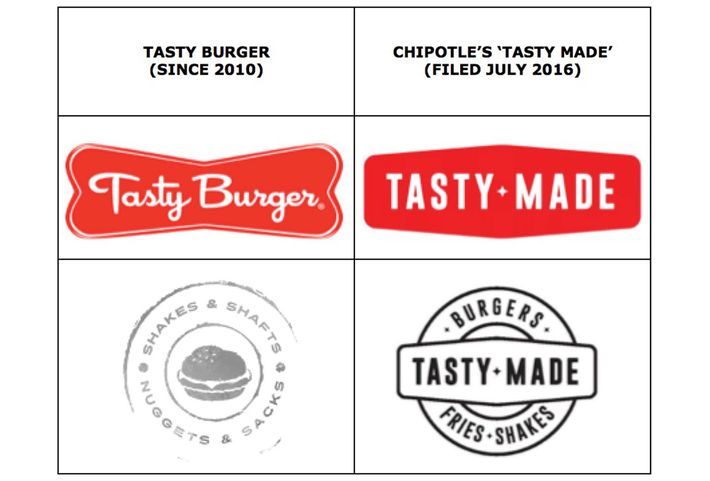 Chipotle, of course, has locations all around Boston, and the chain notes one of them even shares a landlord with a Tasty Burger location. "It would be reasonable to assume that they have seen our signage," explains CEO David DuBois. At minimum, he's sure Chipotle's legal team realized the similarities when performing the obligatory search through the U.S. Patent and Trademark Office's records — which leads them to believe Chipotle "has intentionally chosen to proceed with the 'Tasty Made' name and mark without regard to the obvious infringement."

The company says it sent Chipotle a cease-and-desist on July 19, but Chipotle went and registered "Tasty Made" anyway on July 29. Chipotle, for its part, isn't conceding any wrongdoing: In a statement to CNNMoney, spokesperson Chris Arnold said, "We strongly believe that we are on solid footing," and that "there is sufficient difference between the names and logo marks so as not to cause consumer confusion."
With five Boston-area locations and a new one in D.C., Tasty Burger is still a small operation, but the chain also has a mean following — it's the official burger of the Red Sox. The company apparently has ambitious plans to "share our burgers with millions more," but DuBois argues that's going to get pretty problematic once Chipotle opens a Tasty Made on every block.