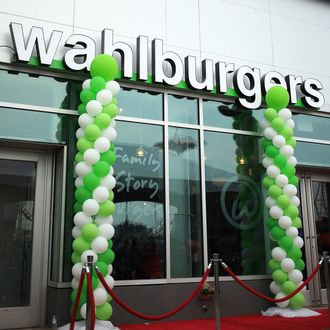 Not-so-good vibrations.
Photo: Neilson Barnard/Getty Images for Wahlburgers
Paul, Mark, and Donnie Wahlberg's working man's answer to Shake Shack has hit a snag out in Brooklyn. The first of what's still supposed to be seven NYC locations has been sued by five former workers who say the outpost, which operates as a franchise, "has been rampant with wage theft and violations of federal and state labor law" ever since opening the doors in summer 2015. The lawsuit alleges the restaurant regularly skimmed tips, stiffed employees on overtime, and illegally forced servers to tip-share with back-of-house kitchen staff.
Among the accusations is that management reportedly pocketed $3,000 in tips from a Blue Bloods cast party that Donnie threw in March. One plaintiff claims he subsequently approached Donnie during another party in August and told him there was "a lot going on at the restaurant" that he needed to know about. According to the lawsuit, Donnie replied, "I know," but their lawyer says nobody at the company, from managers up to chef Paul Wahlberg himself, ever did anything. "The plaintiffs first went to local management, and they didn't do anything," he tells The Hollywood Reporter. "Then they complained to Paul in Boston, but they were so frustrated after months and months of hearing nothing."
The suit demands back wages and unspecified monetary damages. It names franchisee John Cestare as a defendant, but not any of the Wahlbergs. The allegations certainly complicate the company's self-professed "working class" values. It said yesterday in a statement that "Wahlburgers is all about family, and treating people fairly and with respect is at the heart of our brand. Since this situation came to light today, we've been working with Coney Burgers to better understand the circumstances and help bring this matter to resolution."