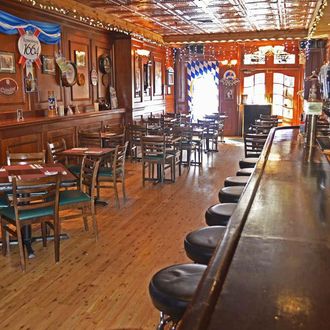 The now Trump-less dining area.
The owners of a popular German restaurant in Brooklyn have (somewhat begrudgingly) removed a photo of Donald Trump. The picture has hung on Schnitzel Haus's wall in Bay Ridge since 2007, but, of course, it's suddenly drawing loud complaints, like this one posted last week on Yelp:

I just couldn't stop thinking about me, a black man with plenty of Mexican friends, supporting a business that supports such a racists and disgusting person as he is. Imagine going to a place and they having a picture of Hitler just because he visited them at one point in time. Just not cool. Should be removed.

Owners Amber and Fred Urban received the photo from Trump — who, as any John Oliver fan knows, has Teutonic heritage — after he visited the eatery in its early days as a "German American ambassador" to wish them success. His way of doing this was (no big surprise here) to promise them an autographed photo they could hang prominently in the restaurant. The next day, a courier dropped off a large head shot that read, "To Fred + Amber, best of luck with Schnitzel Haus! Best wishes — Donald Trump."
Fred says he was "honored to hang the photo" because, back then, Trump was just "a prominent businessman and a big supporter of German-American heritage."
His reputation today is … slightly different, and the Hitler Yelp review pushed things over the edge, the owners say. At first, they defended the photo (they're still struggling to understand how "posting a picture on the wall is promoting hatred"), but by Wednesday the Urbans decided Trump had to go. "When you're hurting my income and taking food off my family's table, we're forced to make changes," Amber tells the Brooklyn Daily. "Honestly, I was very upset."