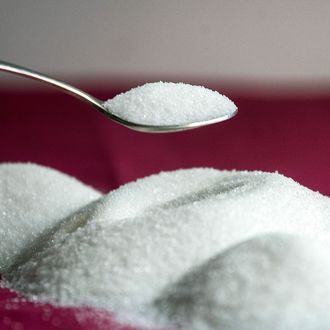 Cut out.
Photo: Luis Ascui/Getty Images
England is adding more teeth to an already-serious effort aimed at curbing the country's hefty sugar consumption. On top of a tax that's about to be levied on soft drinks (one similar to Mexico's), the government announced today that it also wants the entire food industry to cut one-fifth of the added sugars from nine types of food. Public Health England — basically the U.K.'s Department of Health and Human Services — says these are the nine categories that have the most sugar, and therefore play a major role in England's runaway childhood-obesity problem. On its list: cereal, breakfast foods like pastries, yogurt, cookies, cakes, candy, desserts, ice cream, and "spreads" (a British inclusion, if there ever was one).
The goal is a 20 percent reduction after four years, with 5 percent cuts each year. The industry will be left to its own devices in this regard, but to sort of light a fire under it, officials say they'll conduct progress checks every six months. If by 2020 the pace is still lackluster, the government vows to add "other levers to achieve the same aims." It hasn't defined what those might be, but the U.K.'s big food-and-beverage industry group objects that the cuts are "unlikely to be technically practical" for those nine food types, which doesn't suggest they'll be starting with any real urgency.