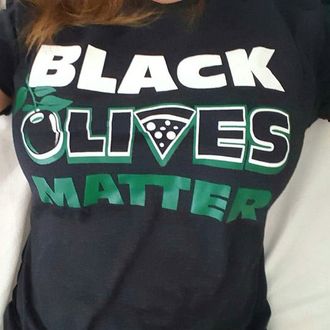 They sort of don't, honestly.
Photo: http://shop.paisanosabq.com/
"Black Olives Matter," the ill-advised slogan that sparked outrage last month when an Albuquerque Italian restaurant put it on a sign, has expanded into a full-blown line of merch. Paisano's owner Rick Camuglia says he originally used the "cute play on words" because he hoped it'd draw attention to their new ahi-tuna dish with black-olive tapenade. It did, and people blasted the turn of phrase as being "in very bad taste" — but Camuglia, who apparently subscribes to the any-press-is-good-press model, has doubled down, anyway, and set up an online store that sells branded apparel.
For $20, there are T-shirts (available in size S through XXL) that feature "The Slogan that started it all," for anybody wanting to "Be a part of it instead of a bystander":
And then there are one-size-fits-all hats emblazoned with the awful phrase, for $25 apiece:

While he admits they've technically appropriated the name of a movement that fights for black Americans' lives to sell puréed olives, Camuglia stresses that he's not trying to flame racial tensions, but rather just make a buck where he can. For what it's worth, he's pretty pleased so far on that front: "It's gone so viral. We've gotten calls from Australia, Spain, France, you name it."