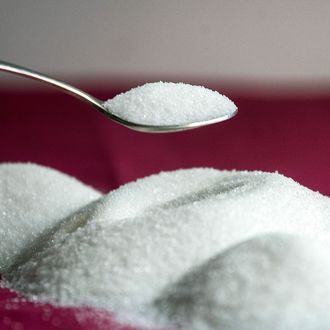 More than you think.
Photo: Luis Ascui/Getty Images
It will still be two years before nutrition labels have to get seriously transparent about their sugar content, yet it looks like the countdown is already starting to make Big Food squirm. Added sugar is both omnipresent in Americans' diets and actively loathed for that very reason. So in May, when the FDA announced new labels had to disclose the number of grams, experts' hunch was that many products were about to suddenly become a lot less sweet. This prediction was pretty spot-on, if Bloomberg's new report on Kind is any indication: The snack-bar-maker just became the first company to start voluntarily labeling sugar content, and — surprise, surprise — there's a lot less sugar in there:
On Tuesday, Kind, maker of the increasingly popular fruit and nut bars, is to start posting the added sugar content of its more than 60 products on its website. The information, which will appear on the bars themselves early next year, shows that, as with other foods getting ingredient makeovers, some of the bars now have less added sugar than they once had. It also lets Kind be one of the first brands, if not the first, to give the new nutritional information to

customers.
Kind says it pulled between 14 and 56 percent of added sugars out of seven different products. The rollout of these reduced-sugar items has already started but won't be complete until the end of 2017 — still six months before the new labels have to go into effect. It's not the only company working to unsweeten things, either: Soda-makers, which were some of the biggest opponents of the FDA's new labels, are reportedly investigating options as far-out as chicory root to naturally sweeten beverages. (A 20-ounce Coke has 65 grams of added sugar, or 130 percent of the daily recommended amount.) The Grocery Manufacturers Association also says it's "actively working" to align products with customers' preferences, which it agrees have "changed dramatically."
The pattern recalls food giants like General Mills and Campbell's decision to voluntarily label GMOs — but the best comparison might be with the way Big Food handled trans fats, which also used to be everywhere, before that mass exodus began.