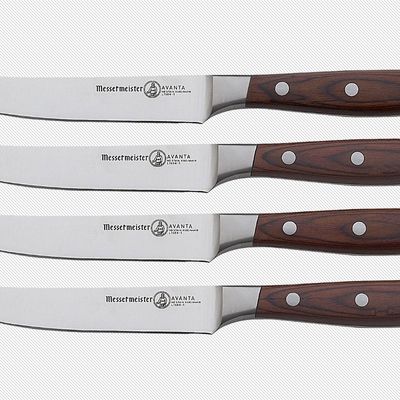 An ode to the best steak knife.
I'm not sure how to write this without sounding like someone on whom the FBI should keep a file — if you read something, say something! — but because it's very important that you own these sexy Messermeister steak knives, I'll just have to forge ahead. Here goes: There's a curious delight in using something extraordinarily sharp to cut through flesh. (Look, I warned you.)
What I mean to say is, there's a curious delight in using these very, very sharp steak knives to bisect a morsel of beef (or pork, or chicken, or whatever flesh you have lying around). Its handle is made of a whorled, dirty-blonde Pakkawood (which turns out to be a man-made wood-plastic composite that is also sometimes called "Staminawood"; if that name doesn't sound dirty to you, I'm afraid we can't be friends), and it feels hefty and reassuring in the palm. The blade slices through the steak with tactile precision — a kind of buttery, slippery ease that makes me say every time my boyfriend and I use these knives, which is a lot, "Man I love these knives."
I feel oddly pampered and capable and grown-up when I use utilitarian objects that exude particular craftsmanship or efficacy; these knives are a prime example of such an object. The funny thing is that when said boyfriend and I moved in together a few months ago, I voted for a set of rainbow-handled Laguiole steak knives that had so captured my imagination. But my eminently practical and traditional life mate wouldn't budge on this Messermeister business. A compromise was reached: He would buy his knives, and I would buy mine. He happened to buy his first. I never picked up the Laguioles; there was no longer any need.
I urge you to go forth and cut flesh with these beauties. I think you'll enjoy it. Plus, they're about $60. Also, when you go to buy them, you may notice that the Amazon description makes special mention of their "upswept boning tip." Between that and the Staminawood handle, who can resist?
Buy It: From $57 at Amazon
The Strategist is a series of smart, obsessive shopping guides from the New York Magazine section of the same name. We've scoured the web to bring you the best of the best. Some of our latest conquests include rolling luggage, umbrellas, beach tents, incense, white T-shirts, nail clippers, and yoga mats. If you buy something through our links, we may earn an affiliate commission. Please note that all prices are subject to change.