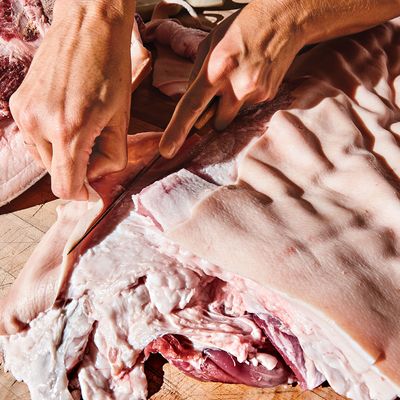 White Gold's white gold.
Photo: Bobby Doherty/New York Magazine
Between the Spotted Pig, the Breslin, and the Ace Hotel lobby menu, April Bloomfield and Ken Friedman sell enough burgers to impress even Danny Meyer. So when they were opening Salvation Burger last winter, they thought, Why not develop our own in-house butcher program
so that we can grind our own meat to make all these cursed burgers? Which is how they came to hire Erika Nakamura and Jocelyn Guest, whom Friedman calls "rock-star butchers," that nascent breed of meat mavens who give ecofriendly, sustainable carnivorousness a good name. Nakamura co-founded L.A.'s seminal butcher shop Lindy & Grundy, while Guest (who, full disclosure, has written for New York) served a stint as head butcher at Dickson's. Now, as the logical progression of instituting Bloomfield's whole-animal butcher program, they're all opening a retail butcher shop–cum–restaurant, which will supply not only the restaurant group but also the home kitchens of its Upper West Side neighborhood with rib eyes and strip steaks and other familiar, user-friendly cuts, plus housemade deli meats, sausages, rillettes, terrines, pâtés, and meat pies in the winter.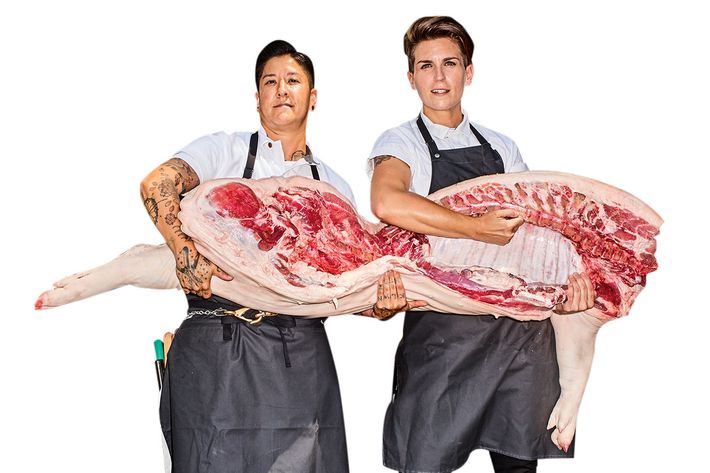 White Gold, named after the old-school-butcher term for those precious flavor-enhancing ribbons of animal fat, will also serve three meals a day, executed by Bloomfield's chef de cuisine, Robert Flaherty. "We'll introduce diners to steaks they may never have heard of by cooking them perfectly in the restaurant rather than yammering on about them at the display case," says Nakamura. Non-steak stuff includes a smoked-tofu bánh mì, hot dogs, and rotisserie chicken.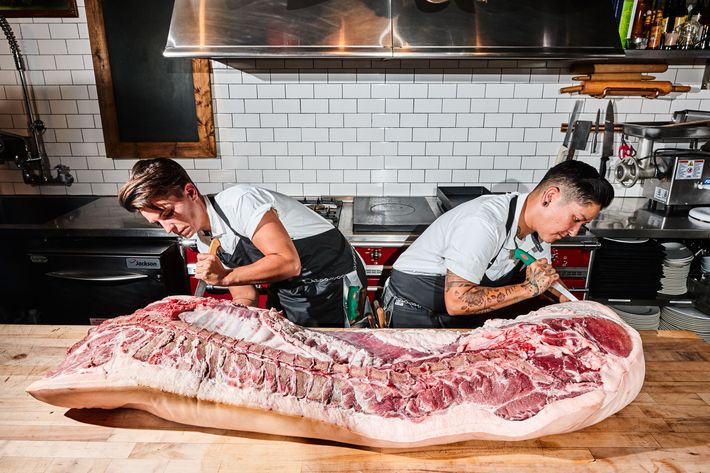 But don't expect to find a burger. Instead, White Gold will offer a sandwich with true local terroir: the cheesesteak-like chopped cheese, said to have originated in the most no-frilled of New York bodegas.
375 Amsterdam Ave., at 78th St.; no phone yet; Sept.
Épicerie Boulud
Daniel brings grab-and-go coq au vin and an oyster bar to the Oculus. 185 Greenwich St.; Sept.
Clover Grocery
Cafe Clover spawns a takeout shop and private-event space. 10 Downing St., Sept.
A&E Supply Co.
Buy your grass-fed beef from the butcher case, or eat it in a spiced sirloin tonnato. 548 Fourth Ave., Gowanus; Sept.
Kreuther Handmade Chocolate
A 15-seat Gabriel Kreuther annex showcasing pastry chef Marc Aumont's handiwork. 43 W. 42nd St.; Oct.
*This article appears in the August 22, 2016 issue of New York Magazine.