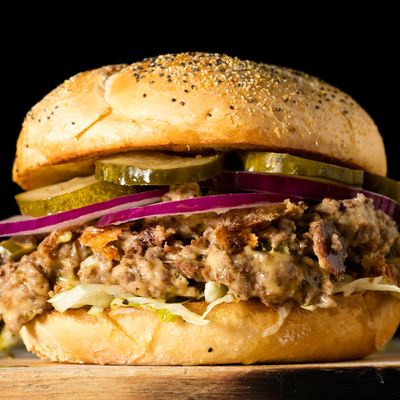 A bodega speciality from one of New York's most talented chefs.
Photo: Melissa Hom
Funny how the chopped cheese, a burger-cheesesteak hybrid with a cult following, has never really caught on with the masses. Despite the fact that this lip smacker is thought to have first appeared on the griddles and menu boards of East Harlem bodegas some time in the '90s, lots of folks, including many members of the local food cognoscenti, don't even know what a chopped cheese is. (For the uninitiated: ground beef and American cheese given the Benihana treatment with a spatula on the flattop, then plopped onto a standard-issue Kaiser or hero roll and garnished with all the usual bodega-sandwich fixings.)
So while its reputation among rappers and hip-hoppers is legion, and while it's big in Harlem and the Bronx plus a smattering of corner delis in Queens and Brooklyn, that's about it. Except for Brooks Headley's superb vegan version at Superiority Burger, and Meat Hook Sandwich's slightly elevated take, it has steadfastly been denied its deserved mainstream success.
Look for that to change in a few weeks, when April Bloomfield's butcher-shop-cum-neighborhood-restaurant White Gold opens for lunch and her butcher-partners Jocelyn Guest and Erika Nakamura along with chef de cuisine Robert Flaherty unleash their high-low take on the sandwich. The details are still being tweaked, but the finished version will consist of a whole-animal blend of beef from well-contented cows who graze among the lush meadows of At Ease Acres farm in Schoharie County, New York. The cheese of choice at press time was the good old American processed variety (though pepper jack is in the running); the garnishes will be shredded iceberg, pickled jalapeño, red onion, and mayo; and the roll a poppy-seed Kaiser, as pictured in the prototype.
White Gold's chopped cheese will not be, nor is it intended to be, a reinvention of the original, but rather an homage. "We're big fans of bodega sandwiches," says Guest. "So we're trying to make, like, guilt-free bodega food." Salvation from said guilt will run you "under $15, including a vegetable side," says Guest. But there's room enough in this sandwich-eating metropolis for both takes on the chopped cheese: the boutique-beef, ingredient-driven, double-digit celebrity-chef one, meant to be consumed in a comfortable dining room in a high-rent neighborhood with a good beer or glass of wine, and the late-night guilty pleasure, wrapped in foil and gobbled down under the fluorescent lights of a 24-hour convenience store.