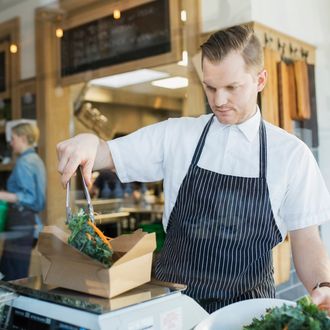 Yep, still perfectly edible.
Photo: Hero Images Inc
Humans waste 1.3 billion tons of food per year, a considerable amount of which is the, frankly, still-delicious stuff restaurants toss at the end of the day — bread freshly baked that morning, chopped produce that didn't get used, sauces, leftover soups, and so on. A new app by two British entrepreneurs is trying to tackle at least the waste on this end. Called Too Good to Go, it gives restaurants a way to sell people the food they were ultimately going to trash for a steep discount.
Functionally, it's like the matinee version of takeaway. Users order ahead of time, then pick their food up during off-peak hours — as the restaurant is closing, say, or maybe once the lunch rush dies down. In exchange, they get a quality meal for next to nothing: Prices quoted by the Evening Standard run from £2 to £3.80 per item (about $2.60 to $4.95). And it's definitely win-win, because Too Good says the average British restaurant wastes about £1 on every meal they throw away, so not only are they only recouping that, but they're actually pocketing money off the orders, says co-founder Chris Wilson. "And we provide them with all packaging so they have recyclable and eco-friendly boxes," he adds.
The app's already launched in smaller U.K. markets (Brighton, Leeds, Birmingham, Manchester) but debuts in London this month. Wilson says they've signed up 95 restaurants, cafés, and bakeries so far, and while they haven't cracked a big chain yet, the prospect of looking more ecoconscious while making an extra buck doesn't seem like a hard sell.