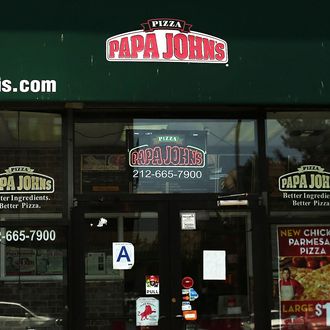 Cash tips would probably be wise.
Photo: Spencer Platt/Getty Images
Greedy Papa John's franchisees continue to suffer the wrath of labor-law crusader Eric Schneiderman. According to an announcement today, the New York attorney general's years-long fight against fast-food wage abuse has just secured at least the third major penalty against the pizza chain since 2015. The office says that franchisee Sultan Ali Lakhani has agreed to pay $500,000 in back wages and damages to more than 200 employees as part of a deal with both Schneiderman and the Labor Department. It's a big payout considering that Lakhani owns just two Manhattan locations and one in the Bronx.
Beyond the $500,000, his office says Lakhani must also set up a protocol for employee complaints, post a statement of workers' rights, and let the attorney general's office monitor his progress for three years. A press release announcing the victory points out that this is the eighth time Schneiderman has caught a Papa John's franchise violating wage laws — and doesn't suggest he's getting tired of it. If there are any other owners out there still skimming employee wages, it's time to give that a rest.