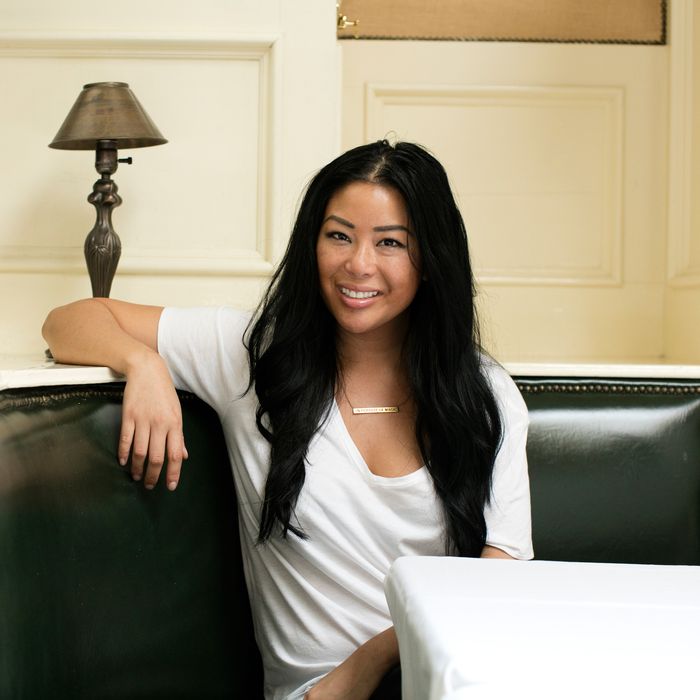 Angie Mar is the new owner of the Beatrice Inn.
Photo: Melissa Hom
During its over-80-year history, the Beatrice Inn has served as a Prohibition-era speakeasy, a family-owned 1950s Italian restaurant, a subterranean coke den for early-aughts A-listers, and a "classic chophouse" for media elite, but the actual food has never held any real allure. In recent years, it's actually become a notoriously terrible place to cook: Vanity Fair editor Graydon Carter reopened the restaurant in 2012 and went through three high-profile chefs in the span of a single year. When Angie Mar — then a sous-chef at the Spotted Pig — heard about the job opening in 2013, she didn't want the gig, either. But now Mar not only runs the kitchen, she just became the owner of the storied restaurant.
"I was happy working for April Bloomfield, who I think is just incredible," Mar says. "This opportunity came around, and I turned it down, but it just kept coming around over the course of two months." When she eventually caved and checked it out, she saw that the dining room was stunning. She also realized that if she stayed at the Spotted Pig, she would continue to cook Bloomfield's food: "And, gosh, I thought, If I'm going to grow as a cook — as a person, as a chef — I've got to cook my own food. Nobody knew who I was, and this was an opportunity to bring this place back from the dead. That's when I agreed to take over, and it's really blossomed."
After cooking the former Beatrice chef's food for one week, Mar transformed the entire menu, adding dishes like a milk-braised pork shoulder that she's been making with her Chinese-American family since she was 15. Like her 45-day-dry-aged burger, it's elevated comfort food. "I've opened a lot of restaurants before, and to actually take over a restaurant is so much harder than just opening one," she says. "You're acquiring someone else's family and someone else's menu, and at the same time, you're trying to slowly interject your vision. I needed it to be my voice and my food. That's the heart of changing a restaurant. It's cooking food that has a lot of soul."
There's no bad blood here: Mar says Carter and his partners, Emil Varda and Brett Rasinski, gave her the autonomy she needed to execute her vision. Mar even calls their working relationship the "perfect marriage," adding, "I felt perfectly happy with how things were going."
It came as quite a surprise, then, when the three men approached Mar to buy them out. She's still unsure why, exactly, but she didn't hesitate to say yes. "I of course jumped at the opportunity," Mar says. "This place has been my baby. It's a labor of love. To have the opportunity to buy it and really have it be my own is so amazing. Every chef's endgame is to have something of their own." Mar won't disclose the cost of the deal, but she did bring on two business partners to help, one of whom is a childhood friend. The financial burden is certainly less than it would have been if she'd opened a restaurant from scratch.
As Mar tweaks the menu and prepares for her role to evolve, she has closed down the Beatrice Inn for a few weeks, with plans to reopen it in the first week of September. "The whole chef-owner thing comes with a lot more responsibility," she says. "I will always be in the kitchen, but whereas before I was only worried about my cooks, it now becomes everything as a whole."
Now, having already given the restaurant new life, Mar plans to truly make it her own. "I'm such a huge fan of the underdog, always, and this place is special to so many people," she explains. "It definitely is very special to me. My hope is that we can build this into the best iteration of the Beatrice that it's ever been." It'll be hard to top Kate Moss's bloody nose (allegedly) causing a total shutdown, but Mar can certainly try.