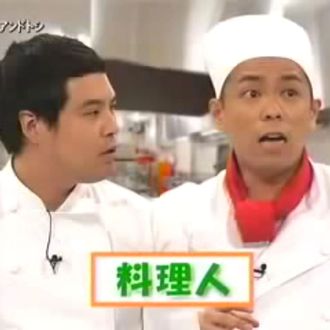 Taka and Toshi, stars of this new show.
Amazon has the ultimate weirdo mash-up in the works: a comedy cooking show where viewers can order the food that appears on it — sort of a Three Stooges meets Barefoot Contessa meets late-night QVC. It rolls out to Amazon Prime subscribers in Japan this fall as part of the company's latest push to make everything in life "1-click"-able. The idea seems to be that viewers streaming the show will watch a pair of comedians "cook," yuk it up at their slapstick, and then impulse-buy the featured items using Amazon's 1-click ordering service.
Amazon says it's planning four 40-minute shows for now, each done in collaboration with the popular Japanese comedians Taka and Toshi. The series will highlight Japanese cuisine from around the country, starting with dishes from Hokkaido, and get various celebrities to guest-star. If this madness sounds like just way too much fun, there is good news for select foreigners: Nikkei Asian Review reports the program will also be available in "some locations overseas." But getting a Prime one-hour delivery of the local Sapporo ramen ingredients might be a different story.