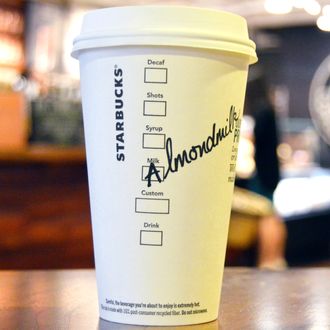 Going to need a shorter cup code…
Photo: Starbucks
For many years, nondairy users had one option at Starbucks: soy. Last year, coconut milk randomly materialized, but the chain's never given almond milk any serious love. Until now: According to a press announcement, America's most popular dairy alternative will finally hit stores nationwide next month.

The rollout will occur in two stages: First, on September 6 at cafés in five regions — New York, Northern California, the Pacific Northwest, the Northeast, and the Mid-Atlantic. Then, by the end of the month, it will expand to all Starbucks locations. The chain says it will cost 60 cents extra and has "light almond notes without any added flavoring." Veg News, an obvious proponent of this dairy-free addition, says a memo to employees noted that a My Starbucks Idea proposal (submitted back in 2011) begging the company to add almond milk is now up to almost 100,000 votes, making it one of the "most-requested ideas of all time." (Starbucks has cited allergy concerns in the past to explain its foot-dragging.)

In keeping with the theme of Japan always getting all of the cool stuff first, Starbucks's locations over there have been offering almond milk for more than a year now. It's even been the centerpiece of several promo drinks, suggesting it might be one way to help American stores reverse flagging sales if done right.